Thank you Clare & Lara! Farewell but not goodbye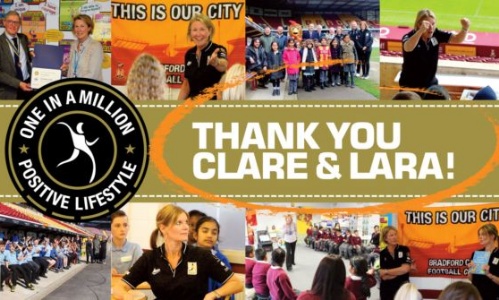 19th July 2018. Today, One In A Million (OIAM) says farewell to our colleagues from Positive Lifestyle, lead teacher Clare Sharpe and classroom support Lara Martin.
Clare is retiring following a distinguished career leading Positive Lifestyle centre for nearly two decades. Since Positive Lifestyle began in 1996, over 35,000 pupils have registered attendance at the centre's workshops!
OIAM co-founder, Wayne Jacobs said, "Thank you Clare! You have inspired so many children. You have energised, enthused, and genuinely impacted them with your big heart of compassion! I have been blessed on many occasions to be present and watch your OUTSTANDING interaction with the children, both in the classroom and during their stadium tours at Bradford City AFC. Thank you for positively educating Bradford! You will always be part of the OIAM family".
OIAM Executive, Mark Hughes added, "They say a generation gap passes every 20 years or so. In primary schools, the cycle is every 6 years! During Clare's time leading Positive Lifestyle that means she has significantly impacted three generations of children and young people in this, our city! I saw this at first hand just recently whilst visiting Clare, a teacher who had brought her school class to a workshop, came up to Clare to say, "you will not remember me, but I visited this centre when I was a child at primary school!". (This teacher has since sent us a picture of herself with Clare!). Sometimes, we will never truly know the impact we have deposited in a person's life. Rest assured, Clare you have invested in tens of thousands of lives across the Bradford district. On behalf of the children and young people of our city, thank you!".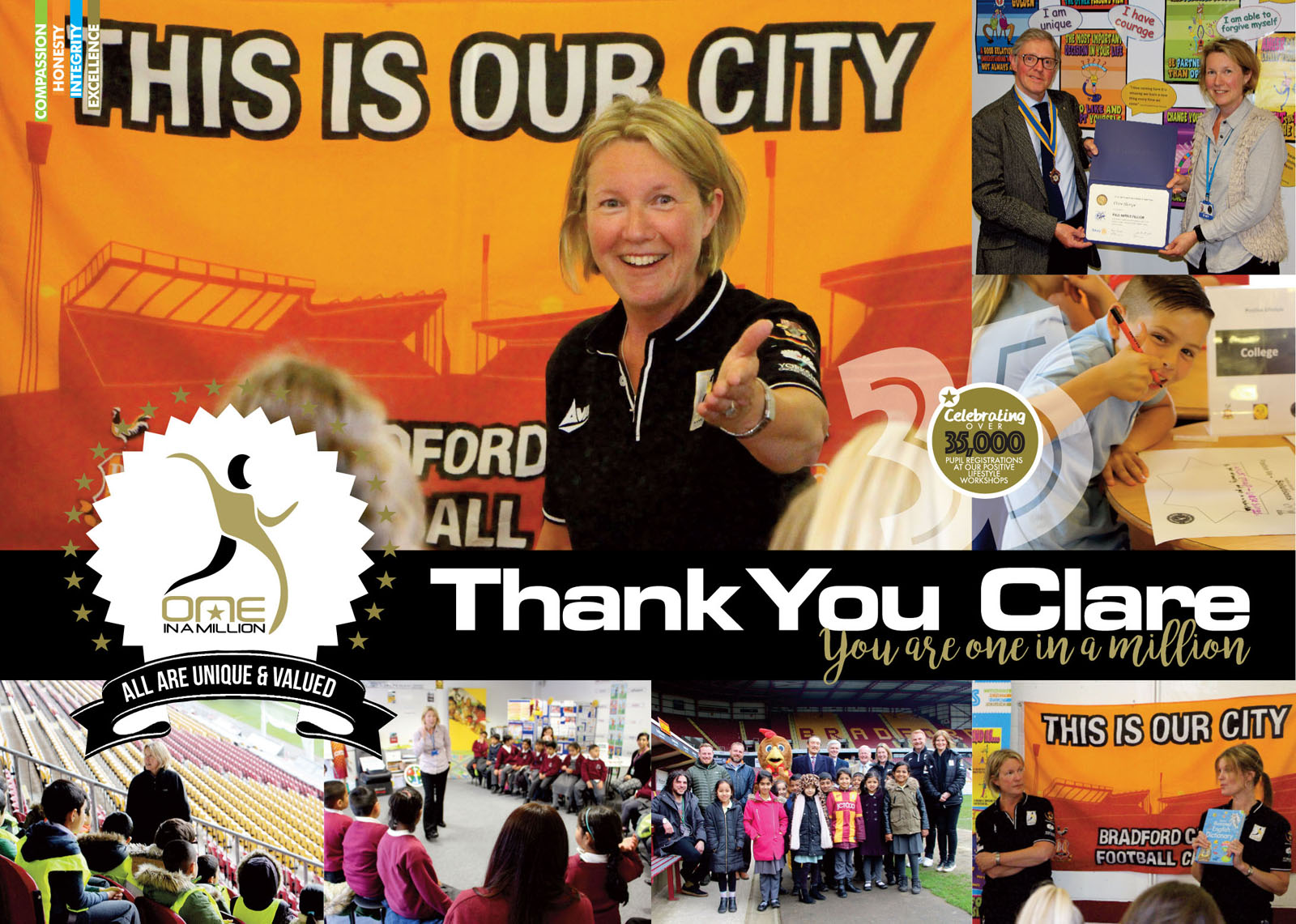 Lara Martin, is a One In A Million ambassador, and though she will be moving onto a new personal project, it won't be long before we see her again supporting a One In A Million project or event! We will be seeing her performing at our OIAM Stars Awards 2018 later this year!
OIAM co-founder, Wayne Jacobs said, "Lara has been an absolute pleasure to have around us in Positive Lifestyle. She epitomises the true qualities of true servant leadership. At all times she models our values: compassion, honesty, integrity and excellence not just to the pupils who attend Positive Lifestyle but to the adults around her".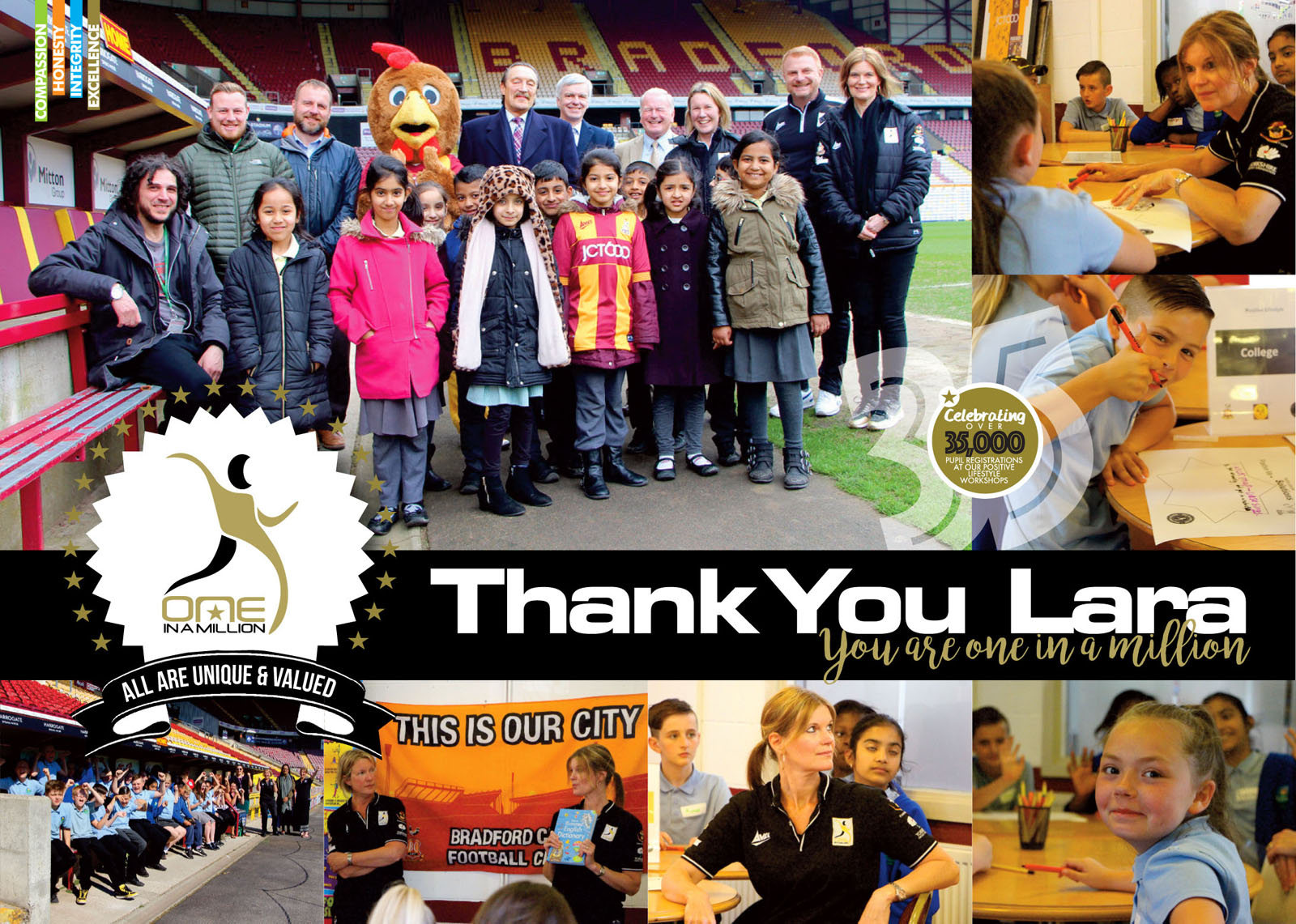 We would also like to take this opportunity to thank everyone who has worked for Positive Lifestyle over the years and in particular those who worked as employees and as trustees for the centre before it came under One In A Million's charitable governance.
Positive Lifestyle Centre began in 1996, known as "The Chalkboard Project" and was based at Odsal Stadium home of the Bradford Bulls Rugby League Club. In 2004, Positive Lifestyle Centre was launched as a new social enterprise non profit company. We also formed a partnership with Bradford City AFC. With weekly attendance to workshops steadily growing year on year, in 2009, Positive Lifestyle Centre gained charitable status.
In 2013, we came under the governance umbrella of One In A Million, taking up residence in their brand new Free School. During 2015, we celebrated another exciting milestone of Positive Lifestyle, with our 25,000th pupil attending one of our workshops! In March 2018, Positive Lifestyle surpassed the 35,000th pupil registration. Positive Lifestyle will be taking a short break in its current format ahead of being relaunched in the new year!
Clare and Lara, thank you! You truly are unique and valued. You are 'one in a million'!