Stars Awards 2017 - Sports Young Person of the Year Winner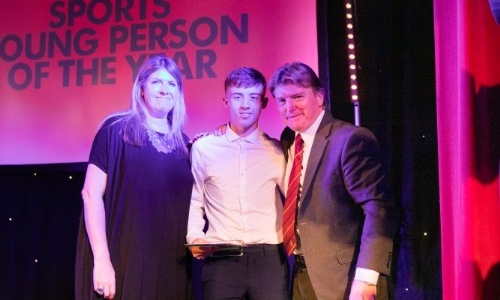 26th October 2017. We are delighted to announce that the winner of this years One In A Million Sports Young Person of the Year Award 2017 is Matthew Clavin. Congratulations Matthew, we celebrate you and your achievements. Here's why...
"Compassionate to those around him, respectful to adults. He always demonstrates our core values every time he participates".
During the last 4 years, Matty Clavin has attended a breadth of One In A Million community based projects including: our award winning Streetwise Football, both One In A Million Kids Club and Youth Club in Windhill, Shipley, and thoroughly engaged in our Summer Soccer School led by One In A Million Head of Development and former Bradford City striker, Danny Forrest.
We first met Matty when he was 11 years old during one of these community football sessions. He was a character, full of charm, charisma and a very likeable young man. He was very popular amongst his friends. Just watching how he conducted himself - it was easy to see why!
As he has matured, he chooses to use his popularity to serve as an excellent role model of compassion and integrity to those around him - doing so, on a regular basis. Growing in such values has earned him respect among his peers. Even when those around him appear to make poor choices, he leads by example and reasons with them in a mature manner, which defies his young age! He is a standout leader!
Creating pathways to enhance the ability of young people is integral to our Vision and development plan. Matty is a talented footballer and through one of our community partners, this has given him the opportunity to sign for the Bradford City Football In The Community, Football & Education programme.
Matty demonstrates our core values every time he plays football, and in particular, honesty and compassion. He sets high standards in behaviour and always encourages his peers to follow suit.
He models the Streetwise 3 R's code of conduct brilliantly: Respect yourself, each other other, and respect the facilities & equipment.
Congratulations Matty. You are the deserving winner of the OIAM Sports Young Person of the Year Award 2017!