Stars Awards 2017 - Free School Young Person of the Year Winner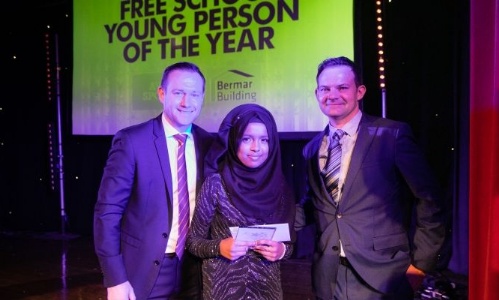 26th October 2017. We are delighted to announce that the winner of this years One In A Million Free School Young Person of the Year Award 2017 is Tasmia Tayyibah. Congratulations Tasmia, we celebrate you and your achievements. Here's why...
"Talented, special, inspiring! A very special student who lives and breathes the OIAM core values".
In lesson, Tasmia helps those who are struggling, showing compassion and excellence. Her work is always of the highest quality, and she identifies clear goals for targets in her learning. She has done more IXL than any other student, and her progress reflects this. She has done the same in Spanish on her DuoLingo learning app.
Tasmia is known for writing reflective and thoughtful letters, both to give constructive opinions and to thank those who support her. She says, "I try to be positive to everyone, especially the younger ones, because they've just started out in secondary education, and I feel that I have the responsibility to help them."
One teacher noted: "Aswell as being a beautiful writer, she is a very talented artist, and I truly enjoy the passion she puts into her artwork".
It's not just the teachers who acknowledge the impact Tasmia has on influencing culture and ethos, her fellow students see her as an inspirational figure. One friend said, "Tasmia is a fantastic student. She sets a great example to us all". Another friend said, "She is a good friend and always shows excellence in her work".
As well as being a hard working student, Tasmia attends extended school enrichments such as the Cooking Club and is a founding member of the Gardening Club. If this is not enough, she plays her part in serving the wider school community on Parent Open Evenings, Transition Days for new students and even sits on interview panels for new staff. Both school governors and staff value her input. As an executive on the student council, her contribution is outstanding with many of her ideas progressing to implementation in the school for improving the school.
Congratulations Tasmia. You are the deserving winner of the OIAM Free School Young Person of the Year Award 2017!