Stars 2017 - Volunteer of the Year Award Winner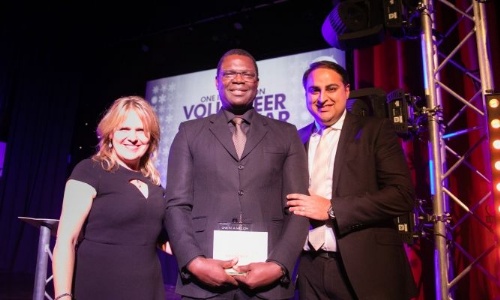 26th October 2017. We are delighted to announce that the winner of this years One In A Million Volunteer of the Year Award 2017 is Toks Adeniji. Congratulations Toks, we celebrate you and your achievements. Here's why...
"Champions the children. Leads from the front. Inspires hope. Thoroughly reliable. Deeply committed to the voluntary sector for over 10 years!"
Toks is an inspiration to everyone. He models the OIAM values: compassion, honesty, integrity and excellence. For over 10 years he has inspired children and young people to engage in athletics to enhance their mental, emotional and physical wellbeing all within a safe, supportive and encouraging environment.
An astounding 6,800 children and young people aged between 8-18 yrs old, have attended Monday night Indoor Athletics since it started. During this time, these efforts have been recognised nationally, when Toks and his outstanding team of volunteers won the England Athletics Development Club of the Year for the Yorkshire and Humberside region.
Whilst sessions cater for those who want to simply engage in athletics as a form a recreation, those who show an aptitude progress to our Development Centre. The results are staggering. 29x children have been selected for the West Yorkshire Schools Sportshall team; 15x have been selected for the West Yorkshire Schools track & field team; others have been selected for the Under 20's North of England track & field team; 5x have competed at the Under 20's England Championships for both indoor & outdoor. Toks has previously been awarded England Athletics Development Coach of the Year 2012, for the Yorkshire & Humberside Region.
Further still, over 20 young people have won medals at the Northern track & field championships and Yorkshire championships. Whilst, one boy, Ben, achieved a bronze medal for the Junior Boys High Jump Bronze (recording a jump of 1.78m) at the English Schools track & field finals.
Toks himself has been invited to sit on several recognised Athletics boards including a Directorship to the England Athletics Board of Directors all whilst managing his own business and family commitments!
His voluntary contribution is truly outstanding and is helping Bradford to become a healthier, fitter city.
Congratulations Toks. You are the deserving winner of the OIAM Volunteer of the Year Award 2017!