Secret Santa Appeal - thank you JCI & the Bradford public from OIAM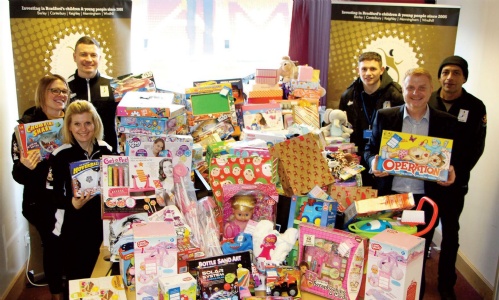 11th December 2018. One In A Million would like to say a huge thank you to Junior Chamber International (JCI) Bradford, for their Secret Santa Appeal, which has seen donations benefit hundreds of the children and families we work with in the community, and thousands more across the city.
Every year JCI Bradford getstogether with Pulse1.co.uk and Pulse2.co.uk andlocal businesses to collect Christmas presents via pop-up collection points or running mini appeals within businesses.
This year KirkgateShopping Centre, Bradford has kindly sponsored the appeal, which is just amazing and demonstrates just how worthwhile this project is to the sponsors and our community.
JCI Bradford leads the way with the annual Secret Santa Appeal starting originally in 1989. The appeal provides a great opportunity for JCI members to learn and practice skills in project management and people management as well as being active citizens.
The appeal collects over 5,000 presents each year. This project is one of the largest of its kind in the country and we would like to thank each and every person who has donated a present via our Secret Santa Appealstand in the Kirkgate Shopping Centre, Bradford, Queensgate Market, Huddersfield, Eureka! the national children's museum, Halifax and The MillOutlet, Batley as well as the many businesses, schools and organisations that have helped to make a needy child's Christmas that bit more special.
Danny Forrest, OIAM Community Pathways Officer said, "The Junior Chamber International (JCI) Bradford Christmas Appeal means a lot to the children and young people that OIAM work with out in the community. Last year, presents were distributed from the same appeal and it was clear to see how much it meant to the children and young people. The look on their faces was priceless and I'm proud that we can contribute to making their Christmas extra special once again, a great collective effort! For the children to have the same opportunity this year really is fantastic! On behalf of the OIAM Community Team I would just like to say a huge thank you to JCI".
"On behalf of every child, young person and family who will get blessed as a result of this incredible act of kindness and generosity One In A Million would like to say a H-U-G-E thank you to the Junior Chamber International (JCI) Bradford and their partners, JCI Bradford volunteer members and the warm-hearted generosity of the public who have passionately supported this wonderful Appeal. May we wish everyone a joyful Christmas and a prosperous and peaceful 2018". (Wayne Jacobs, One In A Million Co-founder/CEO).
More details about what JCI Bradford do can be found on their website: www.secretsantaappeal.org.uk/