Secret Santa Appeal - thank you from OIAM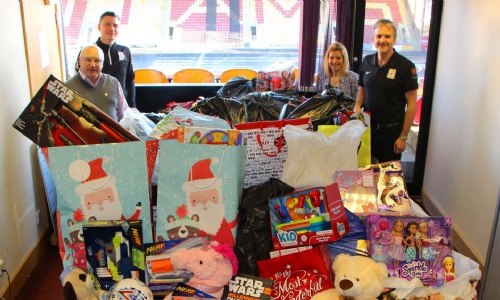 18th December 2017. One In A Million would like to express its deepest gratitude to Junior Chamber International (JCI) Bradford, for their Secret Santa Appeal, which has seen donations benefit hundreds of the children and families we work with in the community, and thousands more across the city.
Every year JCI Bradford gets together with The Pulse and local businesses to collect Christmas presents for disadvantaged children from all over the Bradford district.
This year Kirkgate Shopping Centre, Bradford, has kindly sponsored the appeal, which is outstanding. It demonstrates just how worthwhile this project is to the project sponsor and the Bradford community.
JCI Bradford has led the annual Secret Santa Appeal starting originally in 1989. The appeal provides a great opportunity for members to learn and practice skills in project management and people management among other skills and experiences.
"This project is one of the largest of its kind in the country and we would like to thank each and every person who has donated a present via our Secret Santa Appeal stand in the Kirkgate Shopping Centre, Bradford, Queensgate Market, Huddersfield, Eureka! the National Children's Museum, Halifax and The Mill Outlet, Batley as well as the many businesses, schools and organisations that have helped to make a needy child's Christmas that bit more special". (Michelle Pemberton, JCI Community Director, Junior Chamber International (JCI) Bradford).
Many local businesses and schools have arranged Mini Appeals in their workplaces and then donated thousands of gifts to the Appeal. They include Morrisons Head Office, Schofield Sweeney, James Robinson Fibres, UKAR, Feversham Primary School, and Bradford Grammar School. Stalls were set up in the Kirkgate Shopping Centre where the public could visit and donate gifts. The total number of gifts collected will be announced shortly.