OIAM charity are the winners at the 'Aviva Broker Community Fund Awards 2023', thanks to Packetts!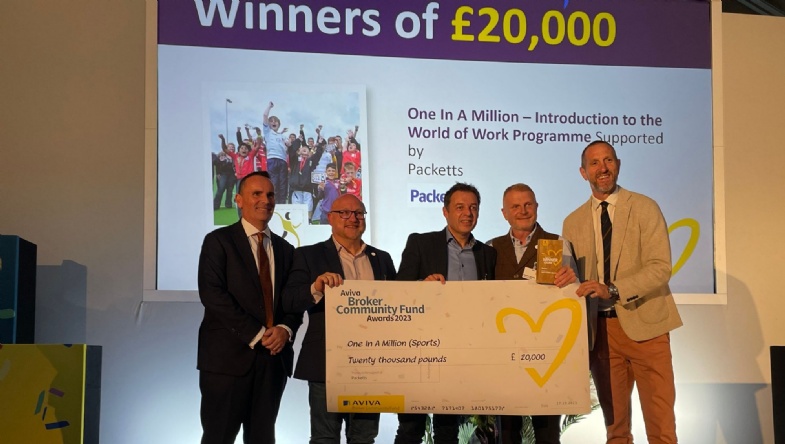 During what was an inspirational luncheon, hosted by Ryan Birbeck, Aviva Broker Development Director, and Rugby World Cup Winner, Will Greenwood MBE. One In A Million was honoured to be a top prize recipient of £20,000 out of 40 prizes awarded on the day from this year's £300,000 Broker Community Fund prize pot. All entries were judged by an Aviva panel, out of 160 strong broker/ charity applications, who shared their stories of how 'together they're making their communities brighter'.
Wayne Cowley, Director, said "Packetts have been an active supporter of One In A Million children & young people's charity for over 12 years. Our primary support has involved fundraising as well as being actively involved in their initiatives and events.
We are proud to be one of the charity's corporate partners, and we organise one of their established annual fundraisers, the popular "Packetts Tour De Dales" Charity Bike Ride to Masham, now entering into its 7th year.
We were looking at other ways in which we can actively support the charity in order for them to continue the good work within our disadvantaged communities.
Packetts are one of the longest established Brokers in Bradford celebrating over 104 years in the city. As proud Bradfordians, we are passionate about the dedication One In A Million brings to break the cycle of poverty and deprivation in the lives of children and young people allowing them to fulfil their true potential".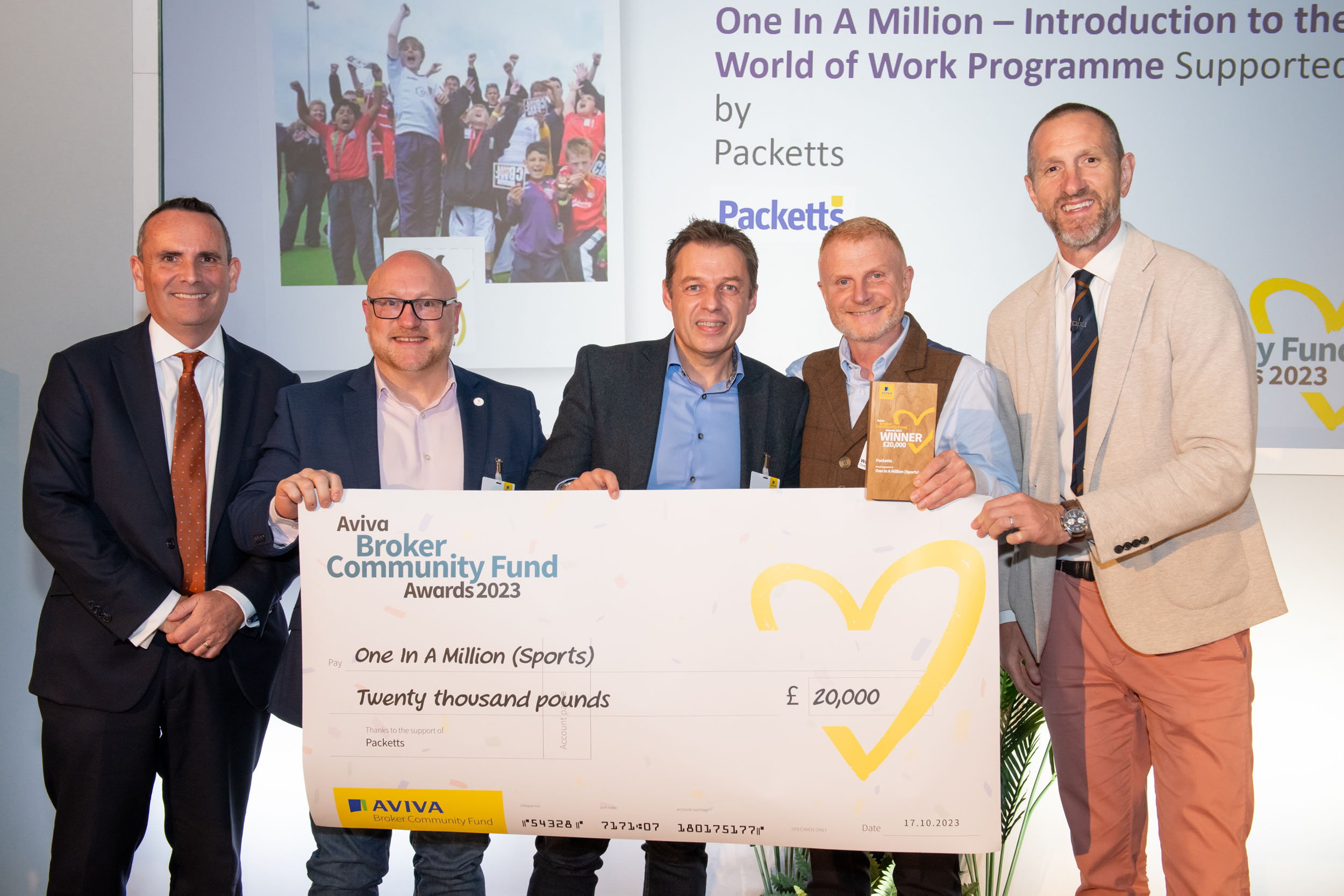 Wayne Jacobs – One In A Million charity Co-founder/Chief Executive:
"We would like to say a big thank you to Packetts for their long-standing support for our charity 'One In A Million' and to Director Wayne Cowley for nominating us for the Aviva Broker Community Fund Awards 2023. We were both delighted and overwhelmed to win the top prize of £20,000 which will go a long way in supporting our continued work amongst children and young people living within disadvantaged communities of the Bradford District. We are very grateful to Packetts and Aviva for their support and generosity".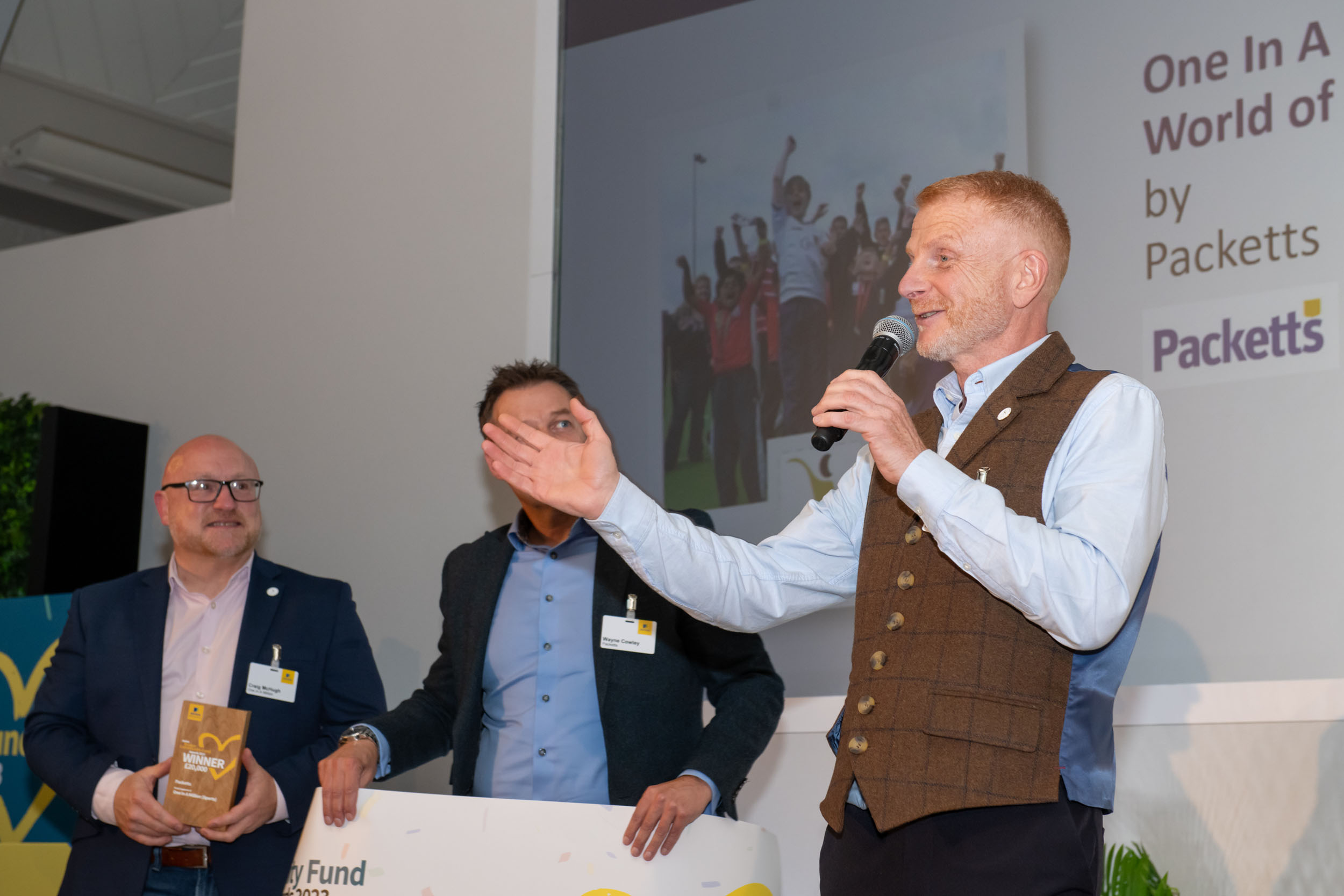 Wayne Cowley – Director of Packetts:
"Winning the top prize at the Aviva Broker Community Fund Awards 2023 is amazing, and we are proud to represent this great charity and be recognised nationally for their work. We would also like to thank Aviva for their continued support and generosity".