OIAM Positive Lifestyle Celebrates 35,000 Child Registrations!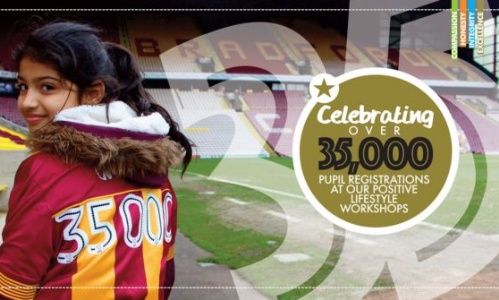 28th Mar 2018. Let's celebrate! Today, our OIAM Positive Lifestyle centre celebrated an incredible landmark. Over 35,000th primary school pupils have registered for our workshops since it started!
Celebrations commenced with the arrival of Year 3 pupils from Margaret McMillan Primary School who were asked the question, "Do you have a dream for the future?". They later explored what it takes to achieve their dream.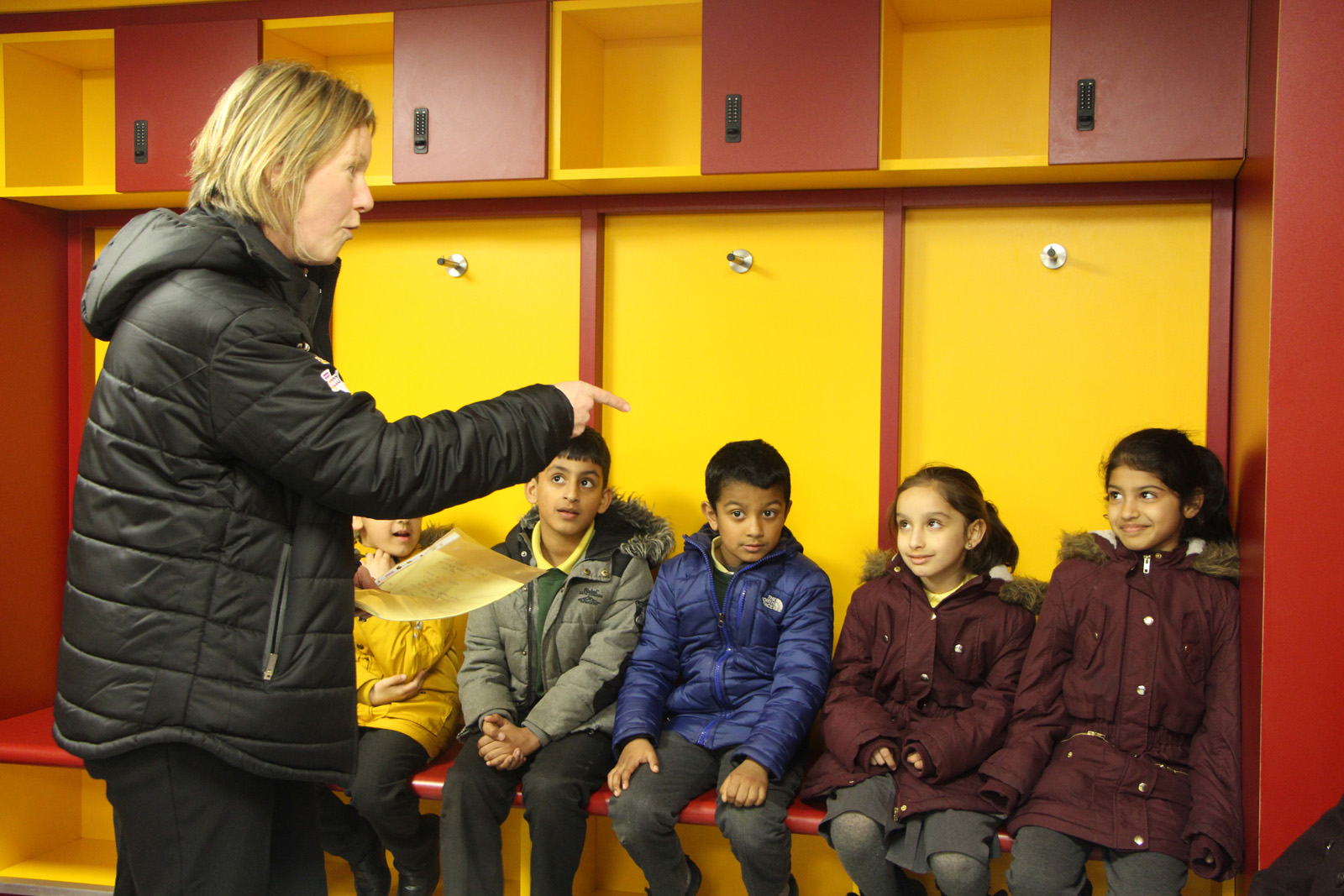 After this, pupils went into the Bradford City AFC stadium for a behind-the-scenes visit to the club Control Room and first-team Changing Room. As the children entered the Changing Rooms, the counter commenced, "34,996, 34,997, 34,998, 34,999, ... 35,000!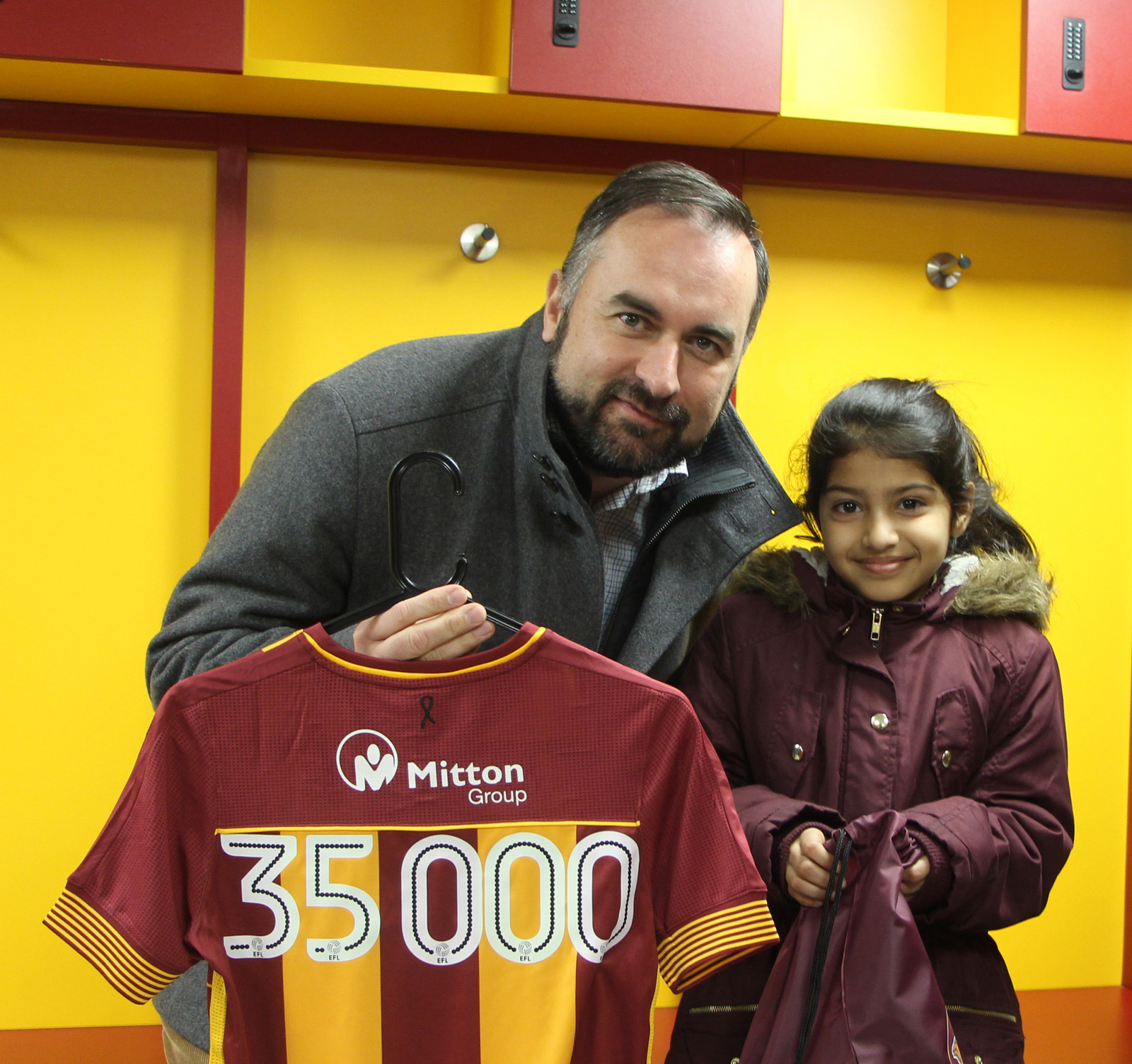 Our 35,000th pupil is Safaa Khan, much to everyone's delight!
Wayne Jacobs (OIAM Co-founder/CEO) and Edin Rahic (Bradford City AFC CEO) presented Safaa with a Bantams boot bag and City football, aswell as a celebratory club shirt with 35,000 written on the back! Pupils asked Wayne Jacobs (who is also a former Bradford City player) and James Mason (Bradford City AFC COO) about the history of the club badge and football kit colours.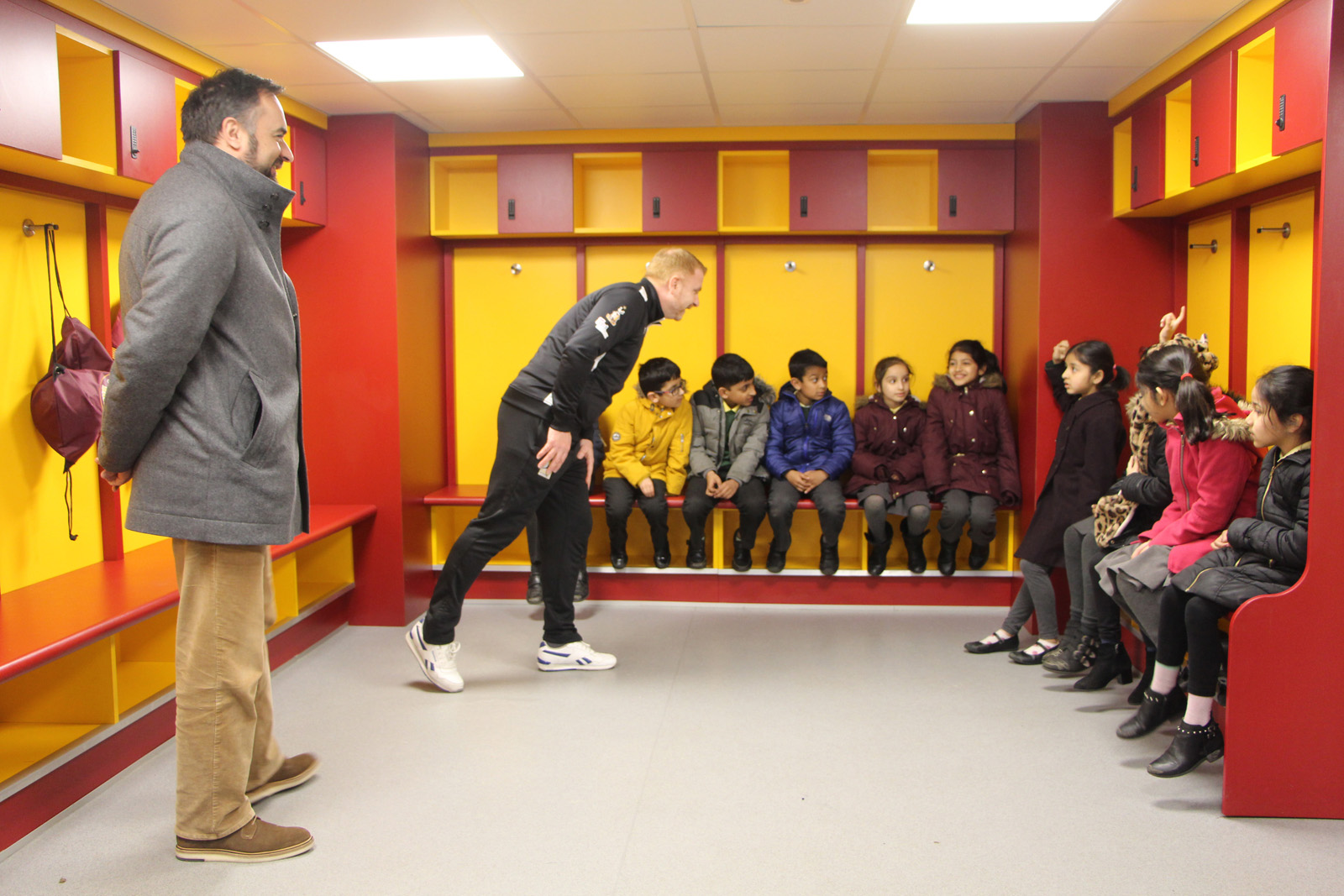 Assistant Headteacher Mr R. Walker said, "As a school we are very proud to support today's celebrations. Safaa is a wonderful pupil and we are delighted she is Positive Lifestyle's 35,000th registered child".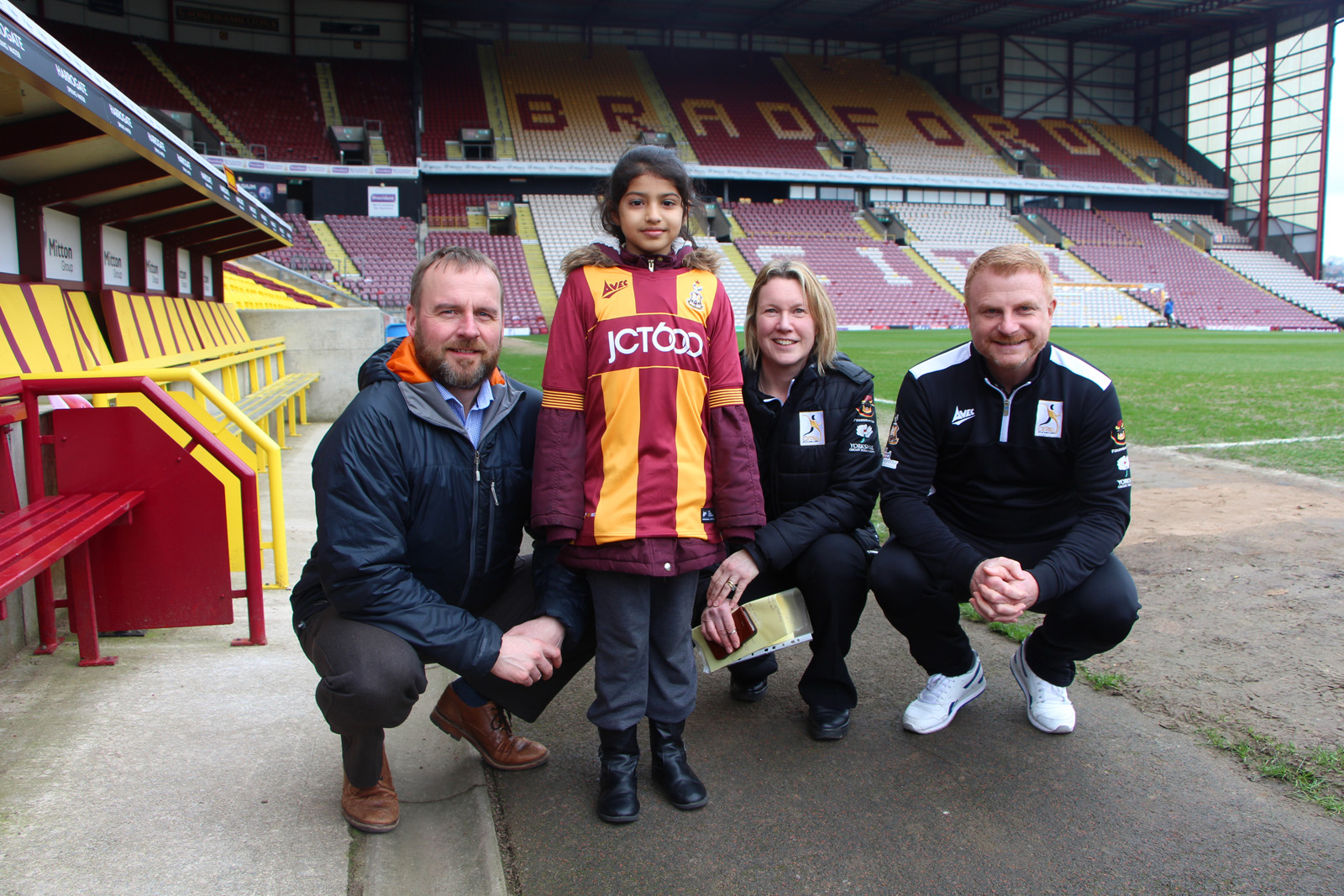 "The pupils at Margaret McMillan Primary School always enjoy their workshops at Positive Lifestyle and we as a staff think that it has had a positive impact on friendships and behaviour in school. We hope to be attending it for many years to come".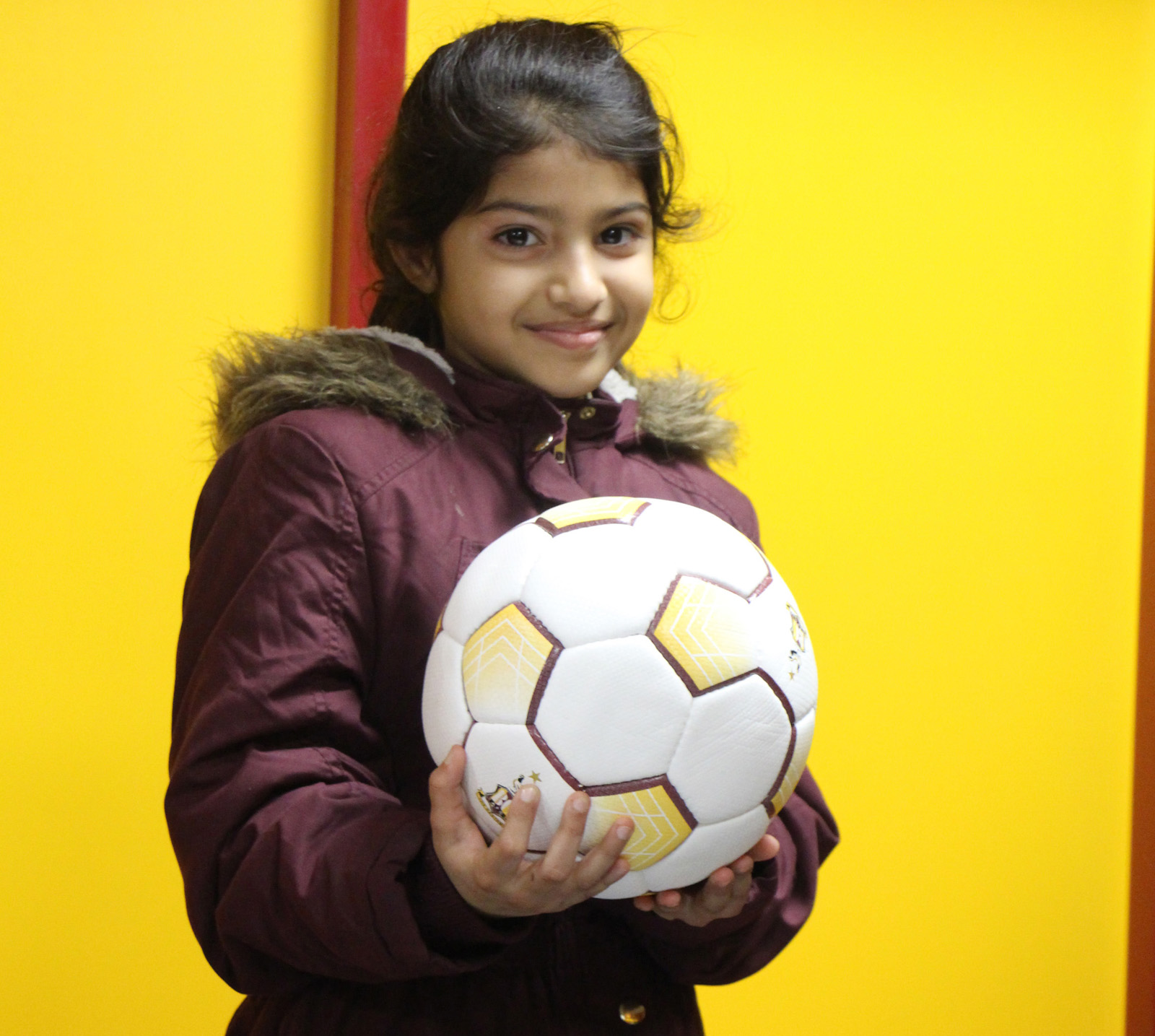 Pupils then participate in pitch side photographs with a backdrop of the iconic 'kop'. Every pupil received a gift bag which included a Bradford City keyring, a memento to remind them, "to take the club wherever they go"!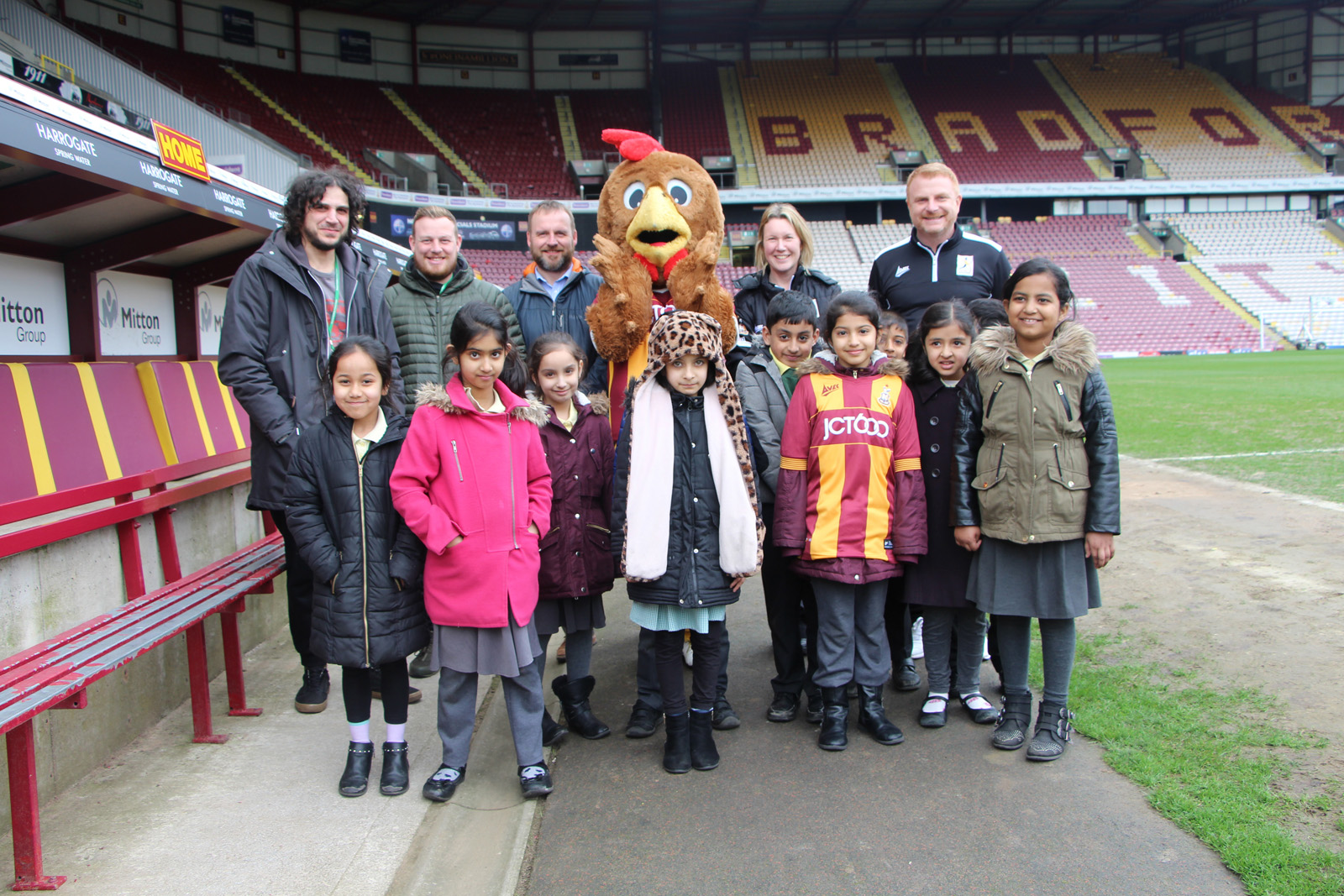 Pupils were enthralled when special guest Bradford City mascot, Billy Bantam joined the celebrations!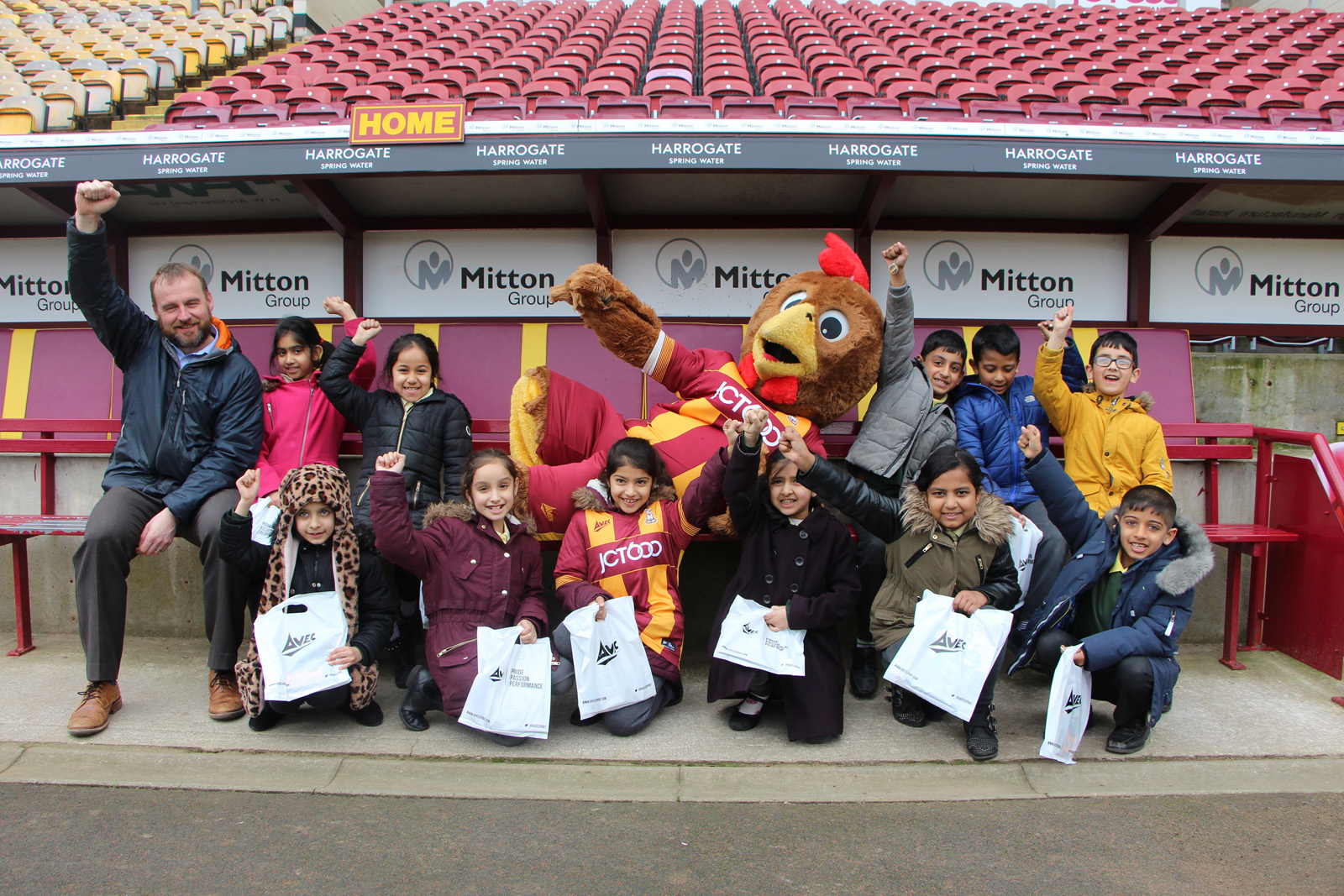 Joining the pupils for the photographs was Wayne Jacobs (OIAM Co-founder/CEO), Edin Rahic (Bradford City AFC CEO), James Mason (Bradford City AFC COO), Clare Sharpe (Positive Lifestyle, Lead Teacher), Lara Martin (OIAM ambassador/PL assistant), Mr R. Walker (assistant headteacher) and colleagues. Former Positive Lifestyle trustees Alan Biggins and Mick Smith joined the presentation along with David Akester (President of Rotary).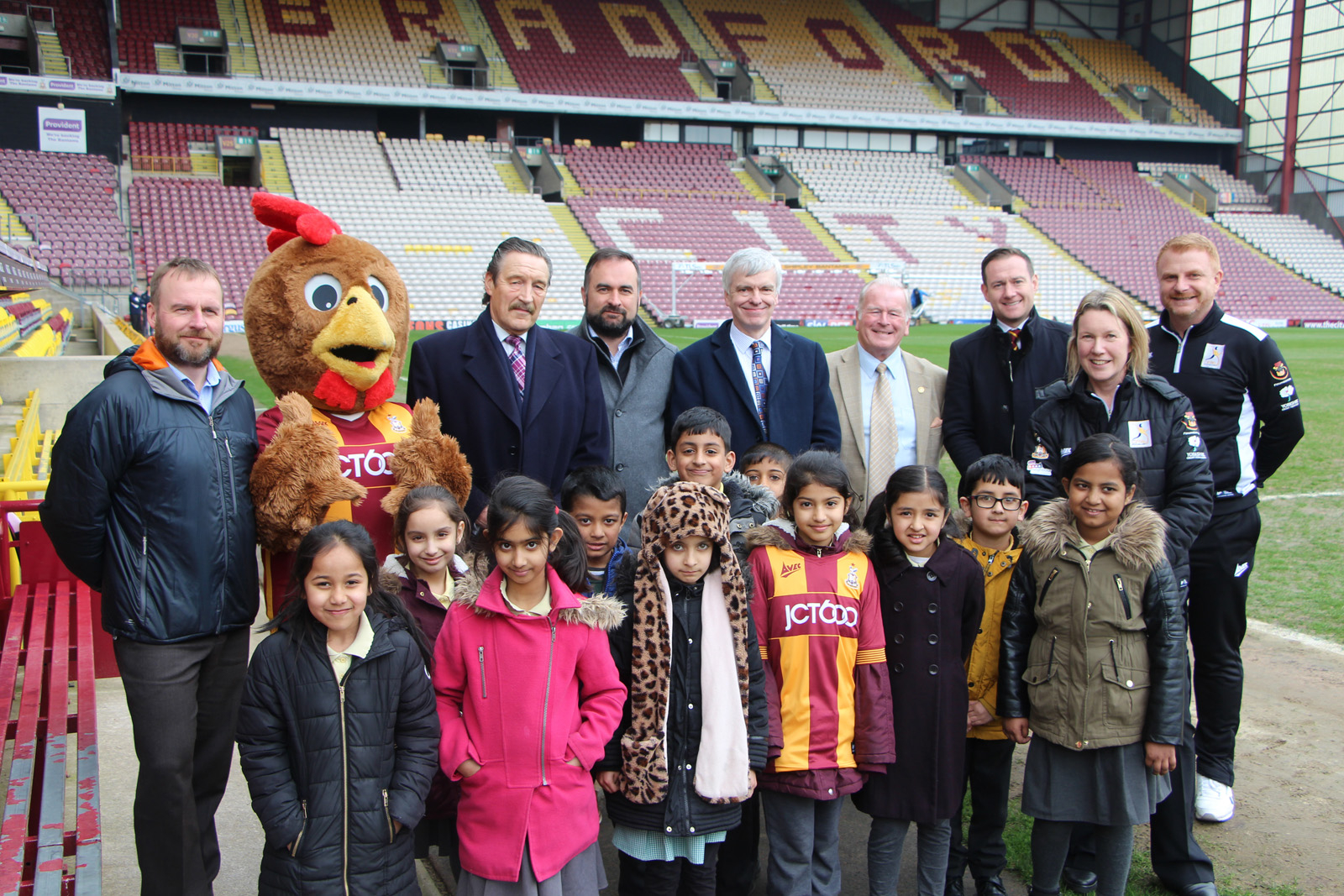 One In A Million would like to say a big thank you to the pupils of Margaret McMillan Primary School and in particular, Safaa Khan for making this day extra special!
Positive Lifestyle is an out of school experience that provides prevention education which is focused on creating responsible citizens. The centre runs 10 workshops ranging from Personal Safety, Self Esteem, Anti Bullying, All Different/All Equal, Safe Food & You, Drug Awareness, Healthy Lifestyle, Citizenship, Friendships and Positive Me.
Beginning in 1996, known as 'The Chalkboard Project' at Odsal Stadium, it moved to Bradford City AFC in 2004, relaunching as 'Positive Lifestyle Centre'.
Positive Lifestyle became part of One In A Million at the close of 2013. Since then, over 14,000 children have registered for workshops.
One In A Million would like to express its gratitude to every school and its pupils who have attended Positive Lifestyle since it started. We hope the centre has equipped, enriched and enhanced you to live a positive lifestyle which impacts those around you!