BREAKING NEWS: Charity Bid Writer Vacancy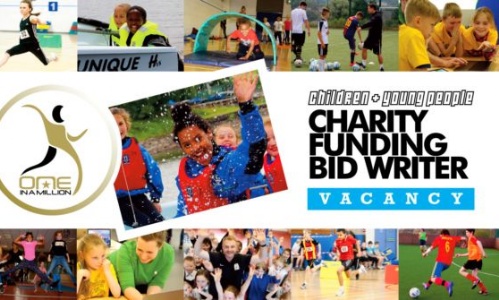 2nd March 2018. Do you relish the opportunity to apply your talent as an experienced and ambitious funding bid writing professional to benefit tens of thousands of children and young people from primarily disadvantaged areas in Bradford?
Do you want to work with a charity where children come first?
Do you want an organisation who values their staff?
Do you want to work in a values led environment?
Do you want to be part of a growing and thriving charity?
Do you always put children and young people first?
If you answered "YES", then this is the opportunity for YOU.
We are a values-led charity. Children are at the heart of all that we do. We believe that every child is unique and should be valued for being who they are. We are a thriving charitable organisation that offers the successful candidate the unique opportunity to help shape the future development of our children and young people.
We currently have a great opportunity available to directly influence the work of One In A Million Charity. We find ourselves poised to move into a period of considerable growth and exciting new projects. So, we are looking for a fundraiser to help us meet the challenges and opportunities before us.
Role Summary:
As a proven experienced funding bid writer, you will have excellent research, writing and checking skills, and close attention to detail. You will be a first-class negotiator, listener and creative thinker.
You will prepare and submit high-quality funding bid applications that enable the organisation to achieve sustainable growth and expand new programmes. You will have excellent knowledge of the third sector, local/national trust funders and foundations, restricted/unrestricted funds, social investment and capital programmes. A great team player, you will work collaboratively and creatively, you will build relationships with the OIAM Corporate/Events and Community teams in order to research, write and submit detailed, compelling, evidence based applications for fulfilment of our charitable vision, mission, theory of change and strategic pathways development plan.
Download a copy of the recruitment pack here.
Discover more about what we do by viewing the latest edition of our quarterly Celebrate magazine here.