Back Of The Net! OIAM Charity Football Fundraiser Is A Winner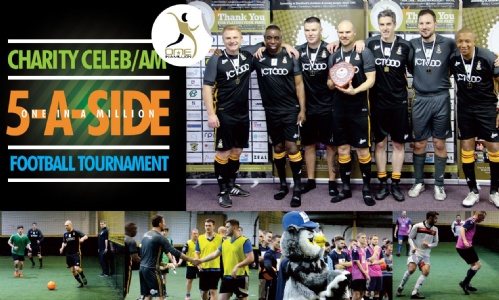 23rd January 2019. A great afternoon's football was played at our 7th One In A Million Celeb/AM Charity Football Tournament at 5aLive, Bradford, on Tuesday 23rd January 2019. The afternoon saw 18 organisations compete in a fantastic spirit to support OIAM's work amongst disadvantaged children & young people in Bradford.
This years tournament saw our OIAM Celeb team comprising of; Andy Gray, Wayne Jacobs, Gareth Jones, Gary Jones, Andy Kiwomya, Jamie Lawrence and Simon Ramsden, competing against a stellar line up of local organisations; Arena Group, AWB Charlesworth Solicitors, Bermar Building, BHP LLP, Blacks Solicitors, The Broadway Bradford, Business Enterprise Fund, Chadwick Lawrence, Christeyns, Hardaker & Town, LCF Law, M&S Broadway, Naylor Wintersgill, Northern Monk Brewery, Schofield Sweeney, TL Dallas and University of Bradford.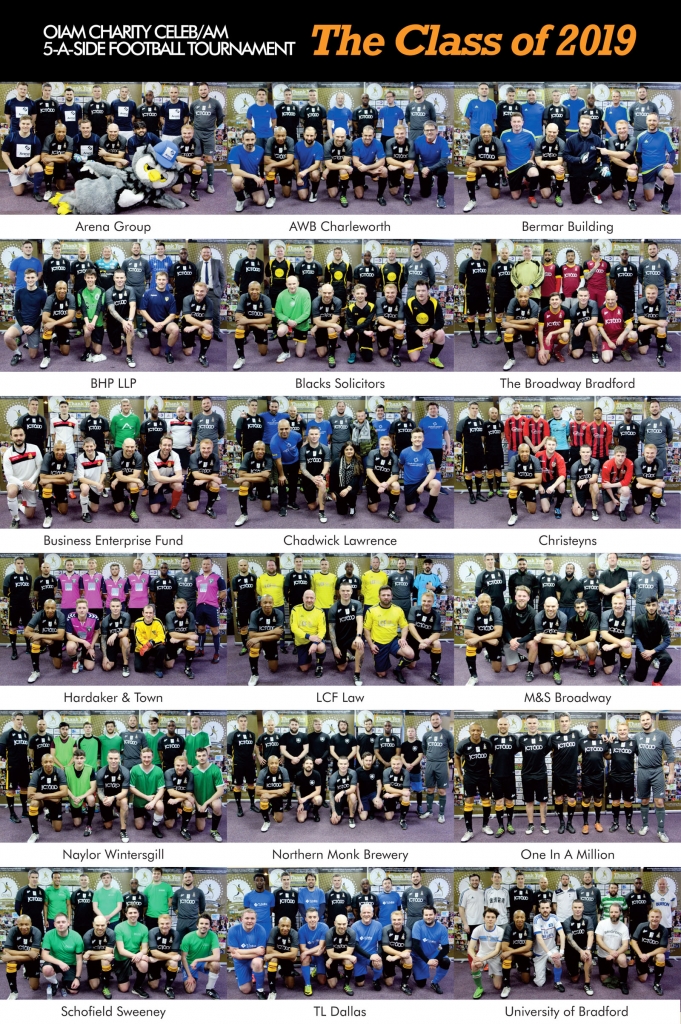 Following a competitive round of group matches, followed by a Quarter Final, Semi Final and Final, congratulations to overall winners The OIAM Celeb Team, 2nd place BHP LLP and 3rd place AWB Charlesworth Solicitors (all pictured below).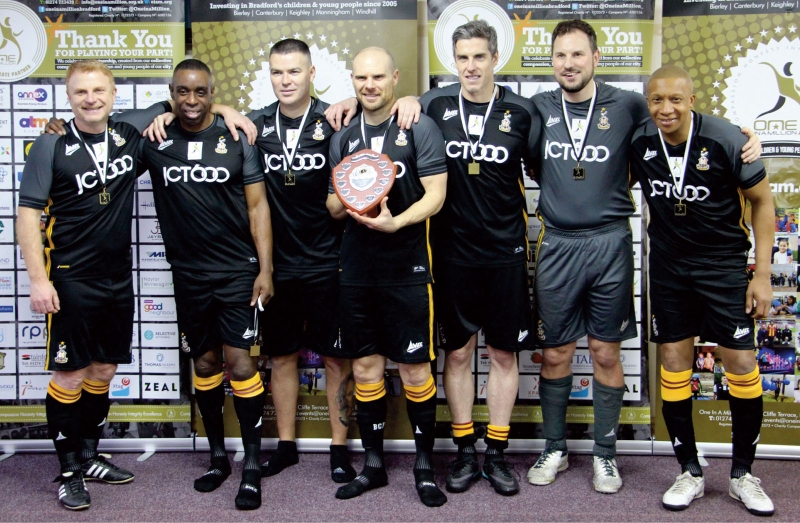 Overall Winners: Team OIAM (L-R) Wayne Jacobs, Jamie Lawrence, Simon Ramsden, Gary Jones, Andy Gray, Gareth Jones and Andy Kiwomya.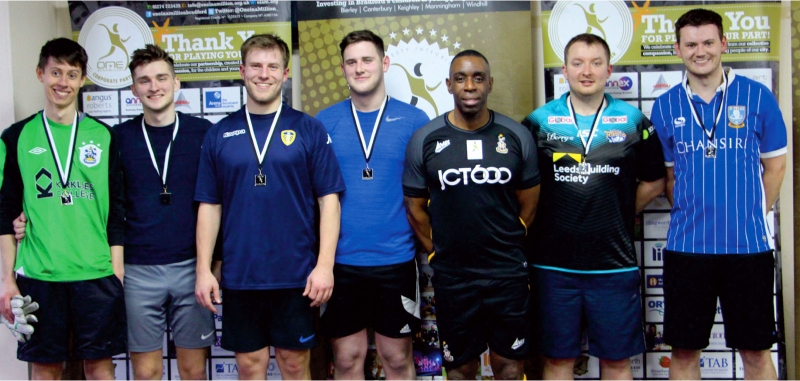 Runners Up: BHP LLP who featured joint top scorer Lewis Fitzgerald.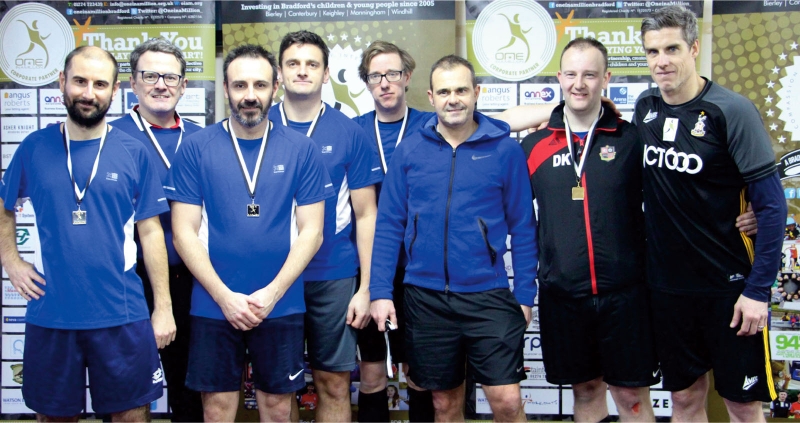 Bronze: AWB Charlesworth who featured joint top scorer Matthew Kay.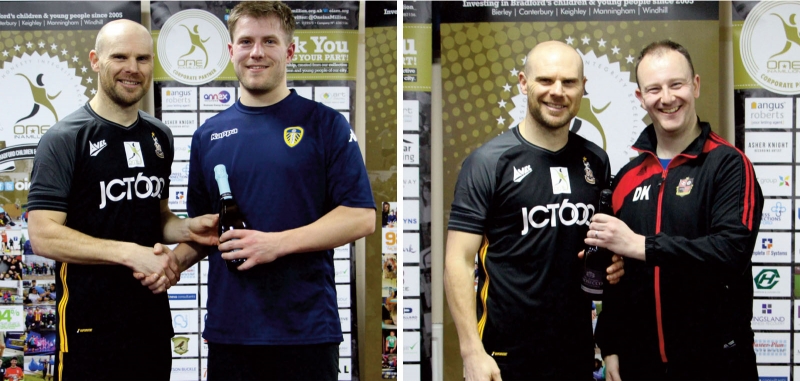 Gary Jones congratulates joint top scorers Lewis Fitzgerald and Matthew Kay (9 goals).
"Proud to be supporting One In A Million and we enjoyed some competitive football in aid of a fantastic cause. Delighted that we won the bragging rights in this years law firm group." Declan Hayes, AWB Charlesworth.
"Well done guys, superb tournament and all for a great cause we support here in Bradford!!" Mark Illey, Business Enterprise Fund
"Great Event for a great cause. Thank-you for a fantastic afternoon". James Kundi, The Broadway, Bradford.
Thank you to everyone who took part and help make the tournament a resounding success whilst raising money to support our charities work.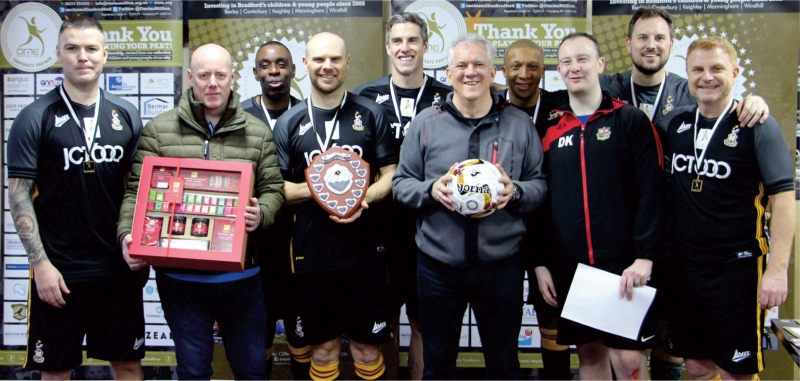 Congratulations to raffle winners: Craig McCall (Bingley Bantams), Mike Martin (TL Dallas) and Matthew Kay (AWB Charlesworth). Thank you to everyone purchased raffle tickets and donated prizes.
We would also like to thank 5aLive Indoor Football Centre in Bradford for being great hosts and contributing to the event's success.