Annual Charity Business Lunch Date Announced!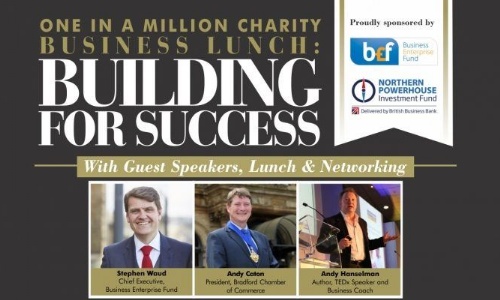 16th March 2016. The date has been set for our Annual Charity Business Lunch as Friday 28th April 2017.
The charity fundraising event is to take place at Bradford's Midland Hotel and feature high profile guest speakers from Bradford's Business World.
Titled "Building For Success", the event will focus on giving insight into how Bradford's Business landscape is on the up and details on the new Northern Powerhouse.

Guest Speakers include Stephen Waud - Chief Executive, Business Enterprise Fund; Andy Caton - President, Bradford Chamber of Commerce and Andy Hanselman, Author TEDx Speaker and Business Coach.
Tickets for the event are priced at £30 each which includes a 2 course meal or you can book a Platinum table of 10for £400 which also includes a 2 course meal and an invite to a pre event VIP reception.
All proceeds from the event will go to helping Bradford's disadvantaged children and young people.
To register for the event or for more information click HERE