Student art exhibition, 'Drawn To The City', wow's guests at the University Of Bradford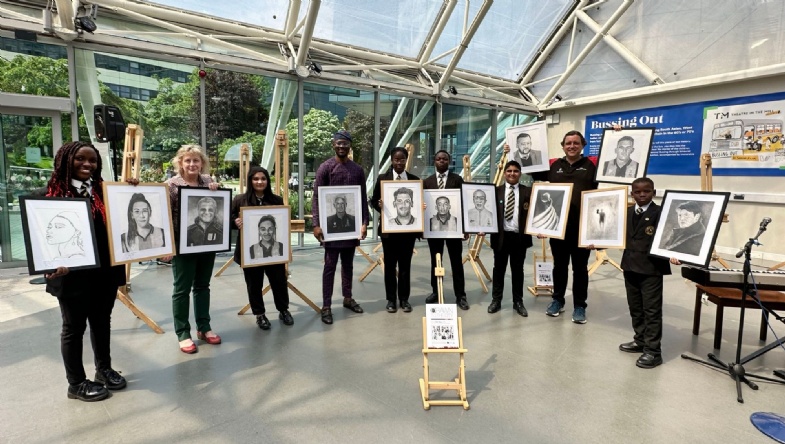 On Thursday 26th May 2023, students from One In A Million Free School had the amazing opportunity to exhibit their artwork at 'Drawn to the City' in the Great Hall, University of Bradford.
The student portrait exhibition was called 'Drawn to the City'. A play on words between our partnership with Bradford City AFC, and the fact that most of us at some point, have found our life journeys drawn to the city whether footballers, students, teachers, parents, and so on.
In January this year Oyedotun Oyesomi, a master's degree student at the University, reached out to several schools asking if he could volunteer. There 'no' became our 'yes'. His talent was evident, and he soon began to run an art enrichment after school alongside Mrs Fowler, Head of Art.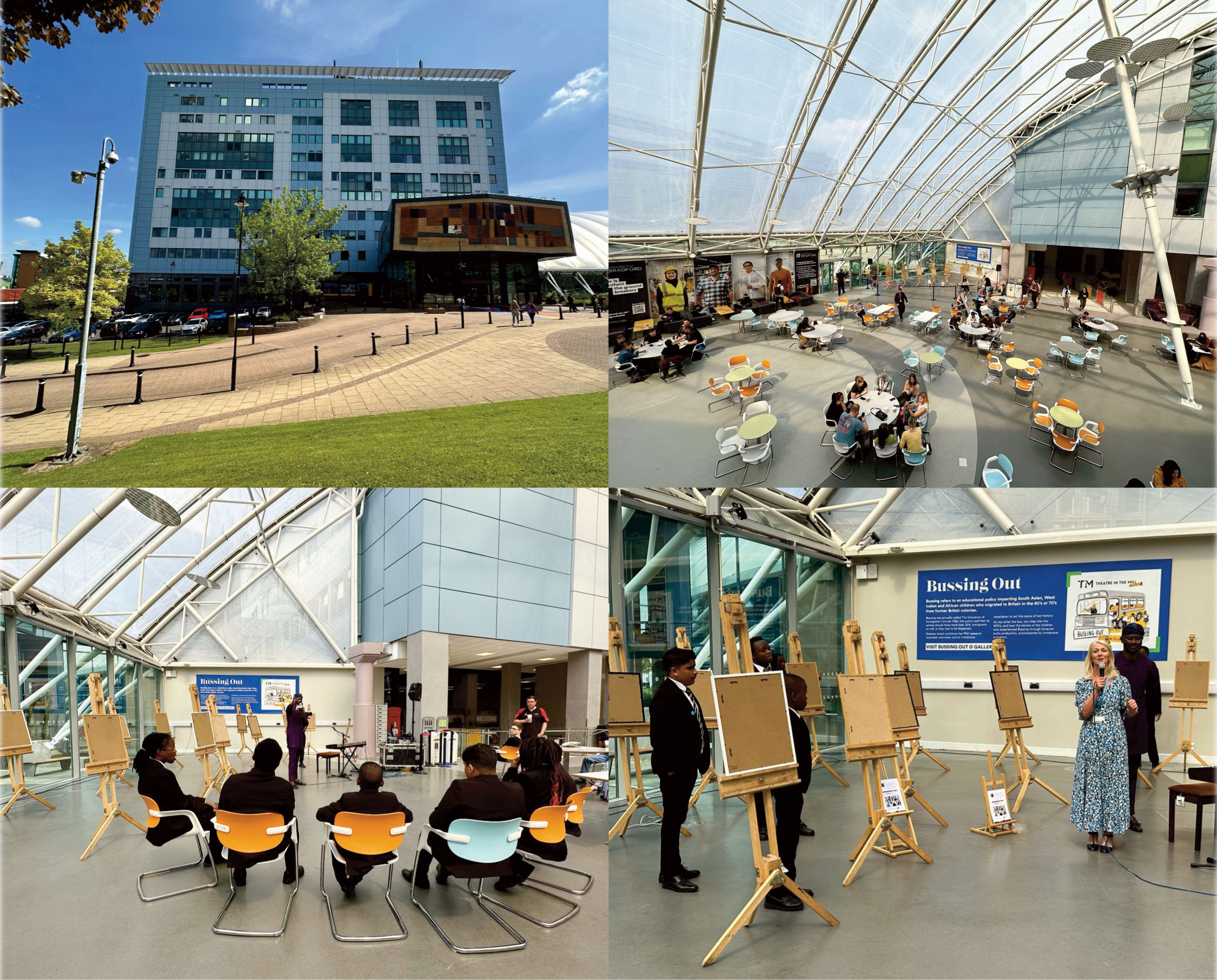 This included the recent project when students drew portraits of Bradford City AFC footballers/ management, both past and present, from the men's and women's team. After a careful selection process, the students decided on Wayne Jacobs (OIAM co-founder/CEO), Ryan Sparks (BCAFC CEO), Mark Hughes (Manager), Ritchie Smallwood (C), Andy Cook, Romoney Crichlow, Stuart McCall, Andy Kiwomya, and our very own Charlotte Stuart (OIAMFS SLT) and Katy Woodcock (OIAMFS Safeguarding).
The award ceremony was opened by Vice-Chancellor Shirley Congdon who said, "It's fantastic to see one of our students here at the University of Bradford sharing his talent by helping the young people at One In A Million Free School to develop their own art skills. The finished pieces are incredible. Giving back to the community is so important, and we're really proud of Oyedotun for giving his time to the next generation of Bradford artists".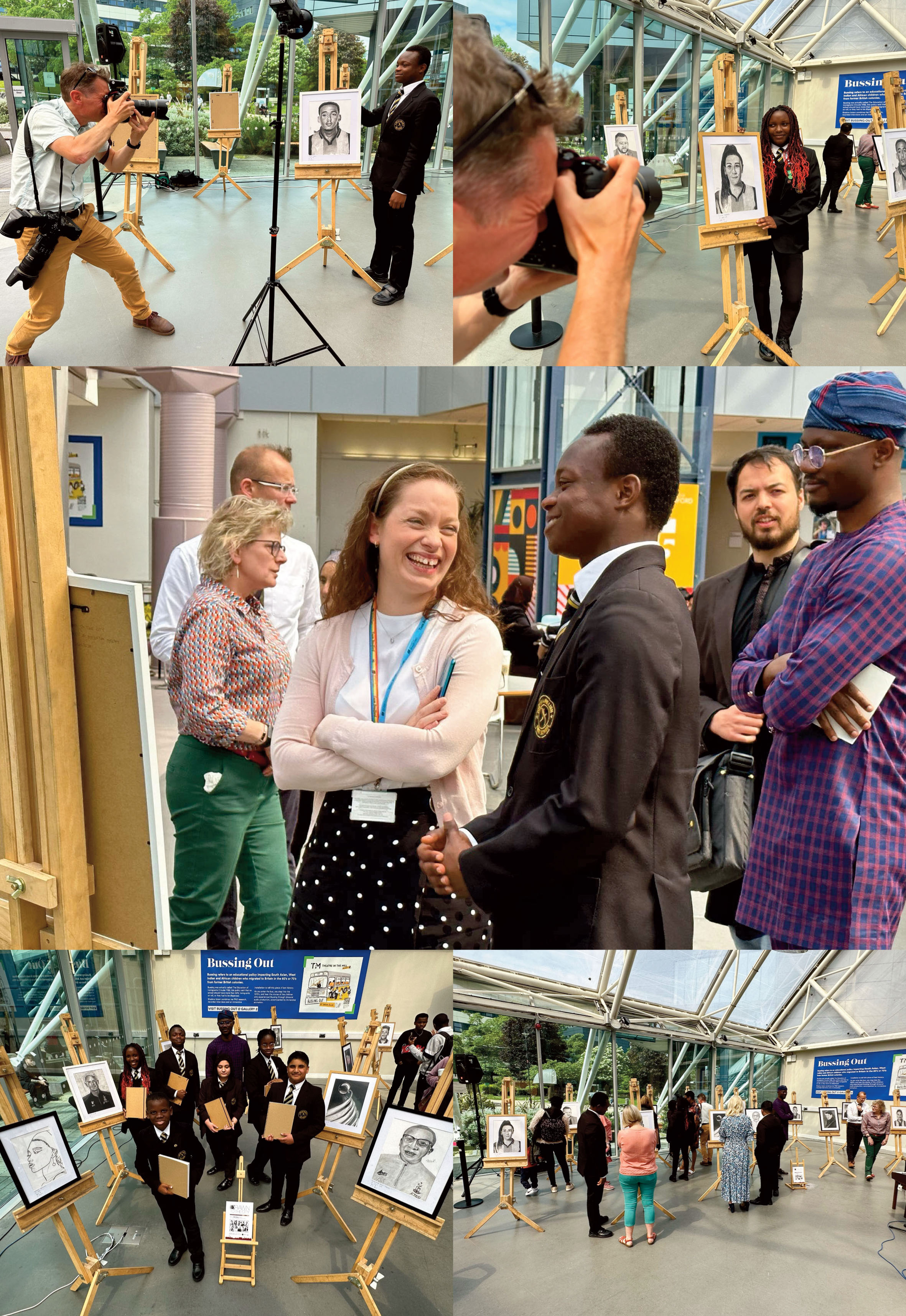 Mark Hughes, OIAM Trust Member, addressed students and guests, "What an inspiring venue to exhibit your work. Whilst we may recognise your individual ability and talent, we pledge to praise you for your 'effort', for your commitment to embrace the creative critical thinking process, and demonstrate a growth mind-set, which has resulted in these distinguished pieces of art. Please be proud of yourselves. You are unique and valued".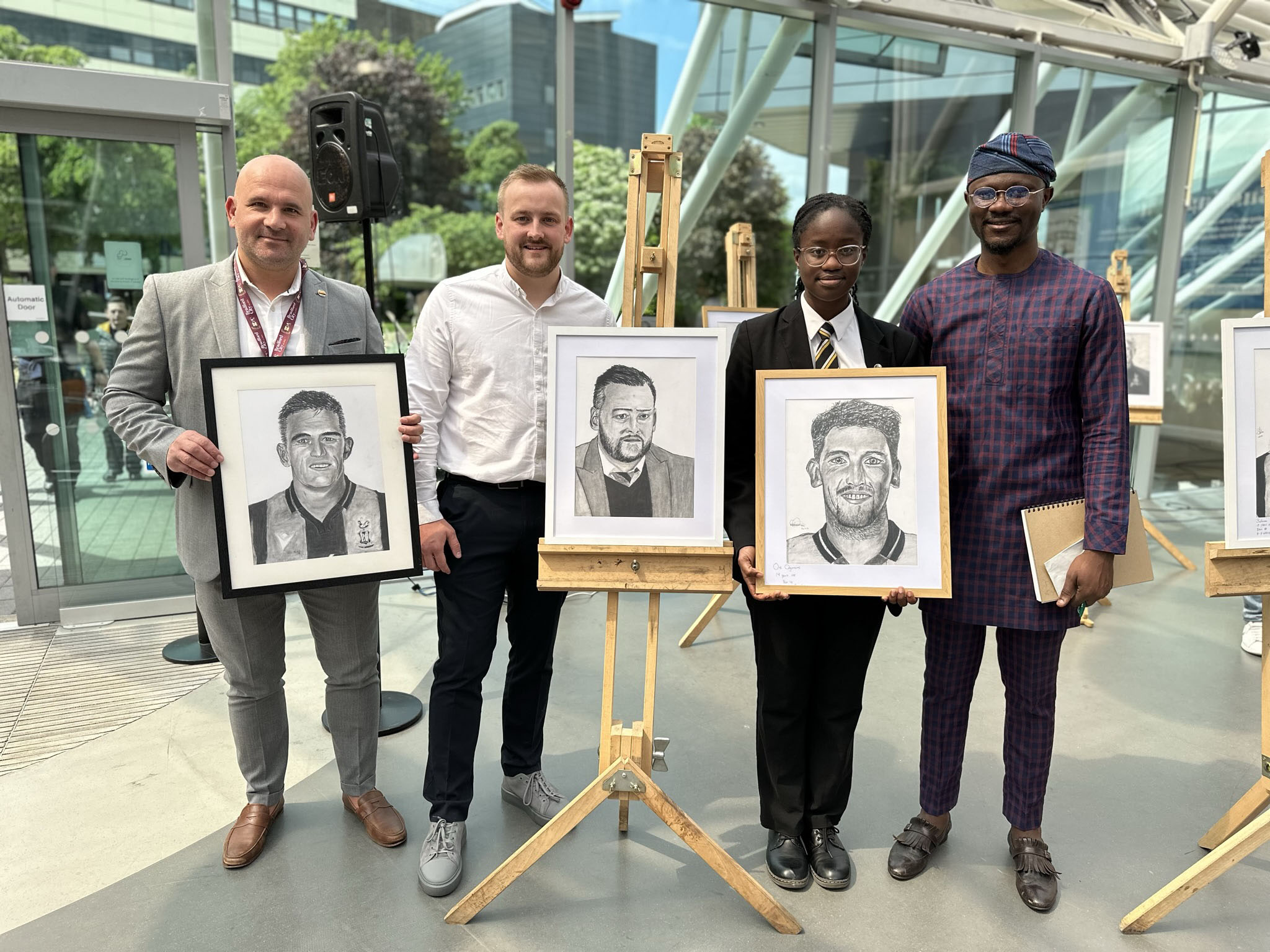 At the close of the exhibition Oyedotun said: "Words will fail me to express how I feel at the moment! One In A Million Free School are doing a great job educating their students. Students show good character, great values and a willingness to learn. Beyond sketching, gridding, and charcoal shading, they developed their patience and diligence in the refinement of the detailing. I am very proud of these amazing students".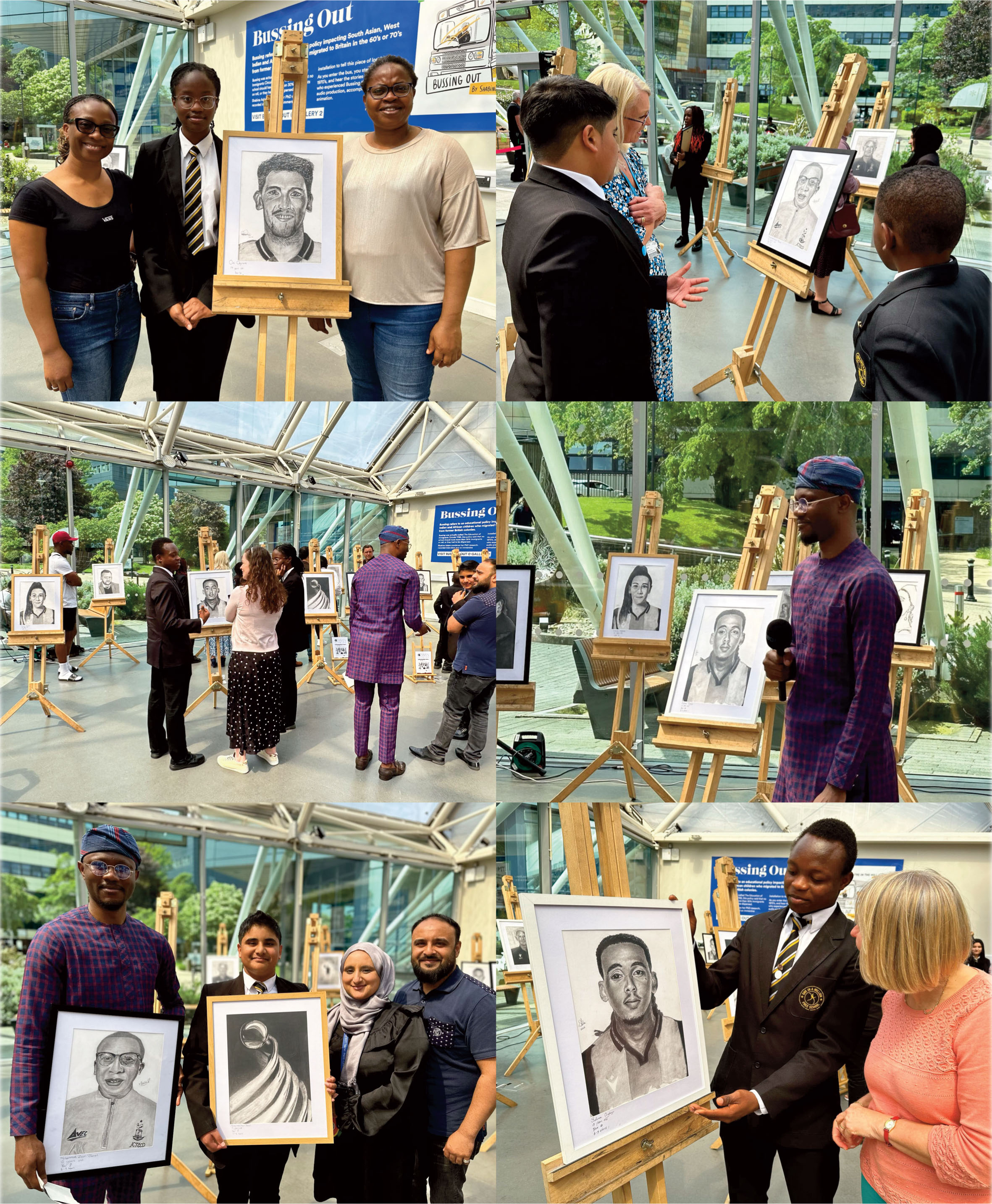 Wayne Jacobs: "It has been wonderful for our students to have this life enriching opportunity as part of their schooling. We are very grateful to Oyedotun for giving his time and expertise so generously to support our students on this project. To Vice-Chancellor Shirley Congdon and staff at the University thank you for hosting the exhibition and making our students (and staff) feel special. To partners, Bradford City, thank you for their part in bringing this exciting opportunity to fruition. To our students, thank you for representing yourselves and the school ever so well. We are proud of you".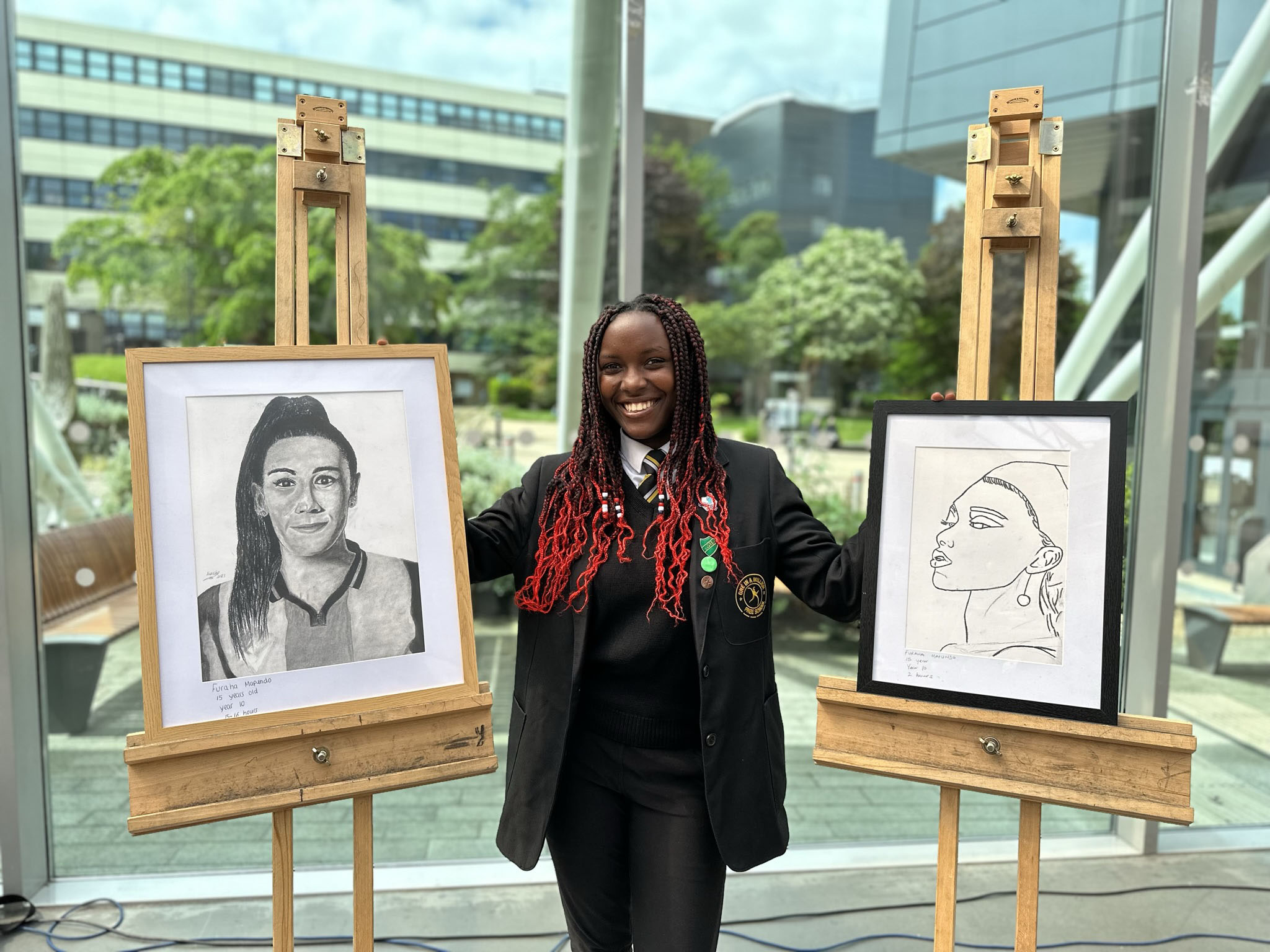 Furaha, Year 10.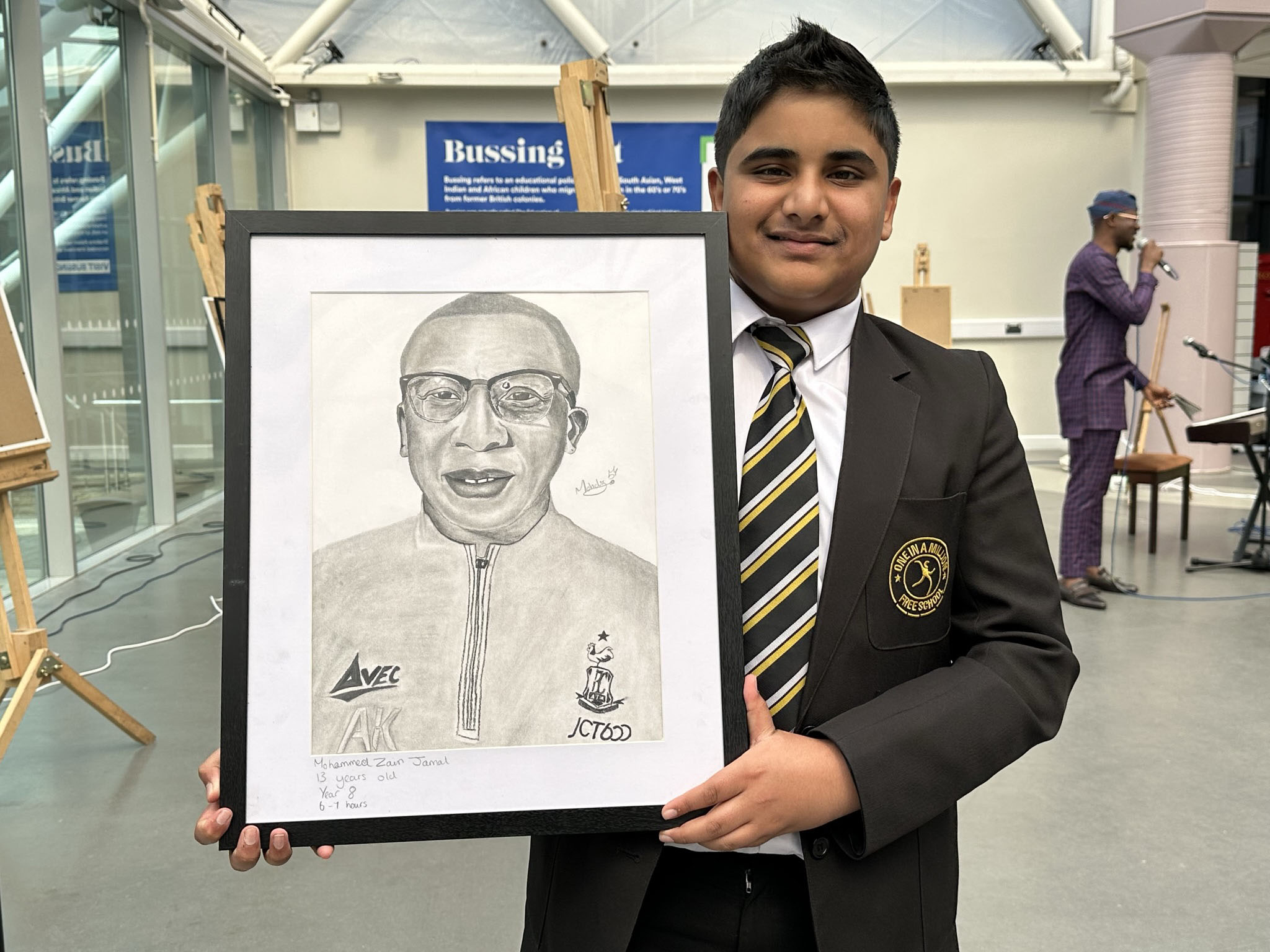 Mohammed Zain, Year 8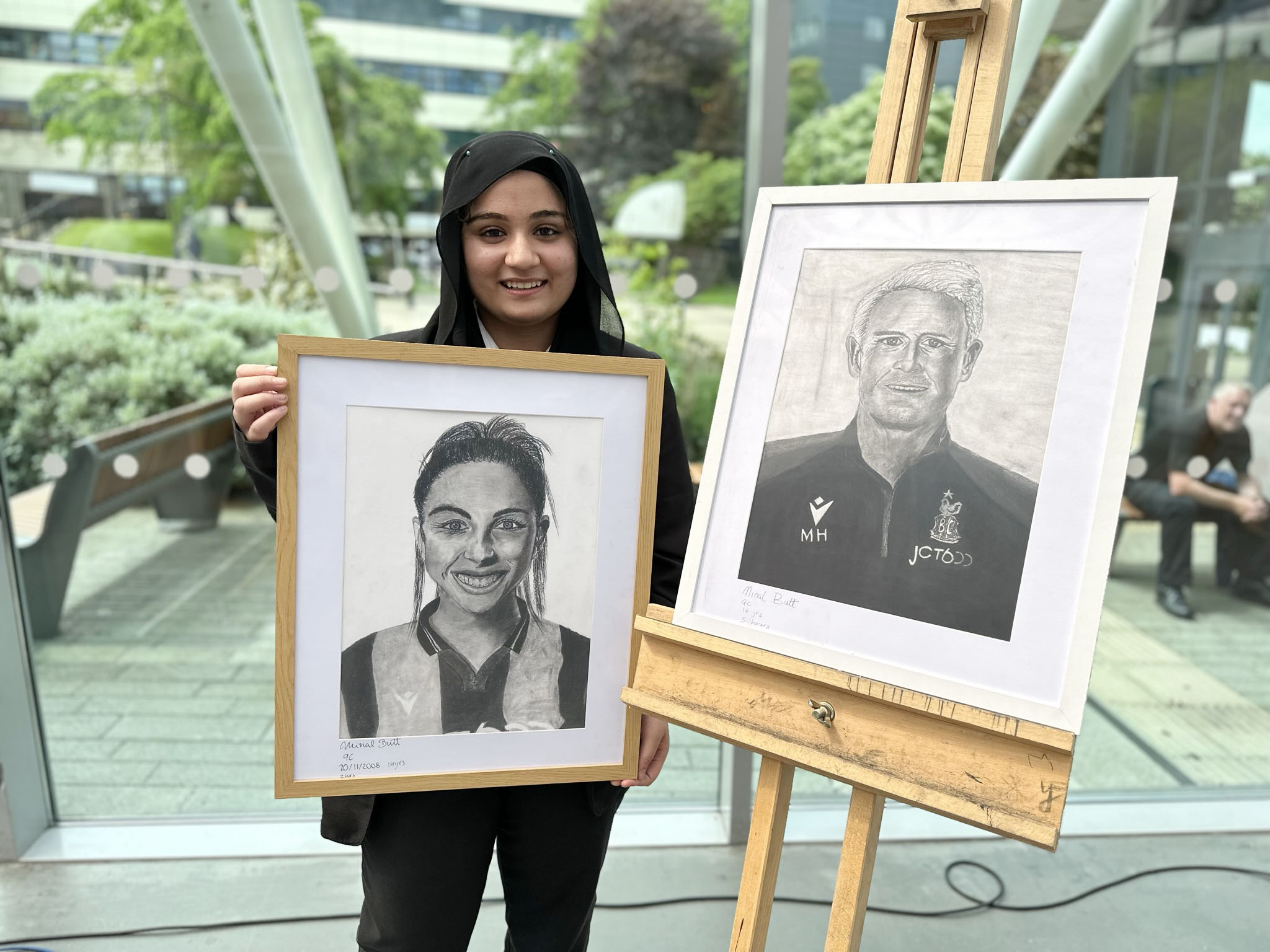 Minal Butt, Year 9.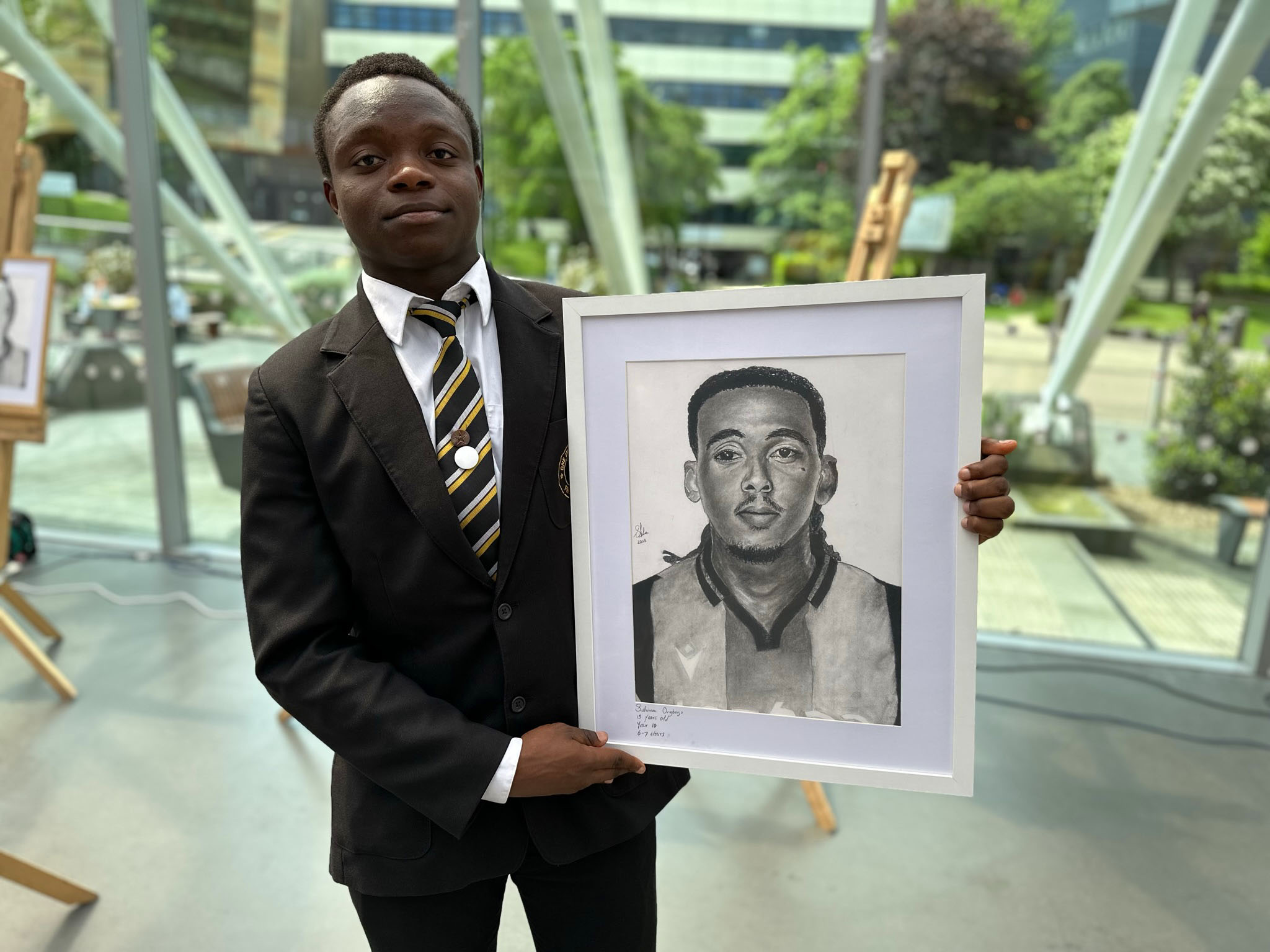 Suleiman, Year 10.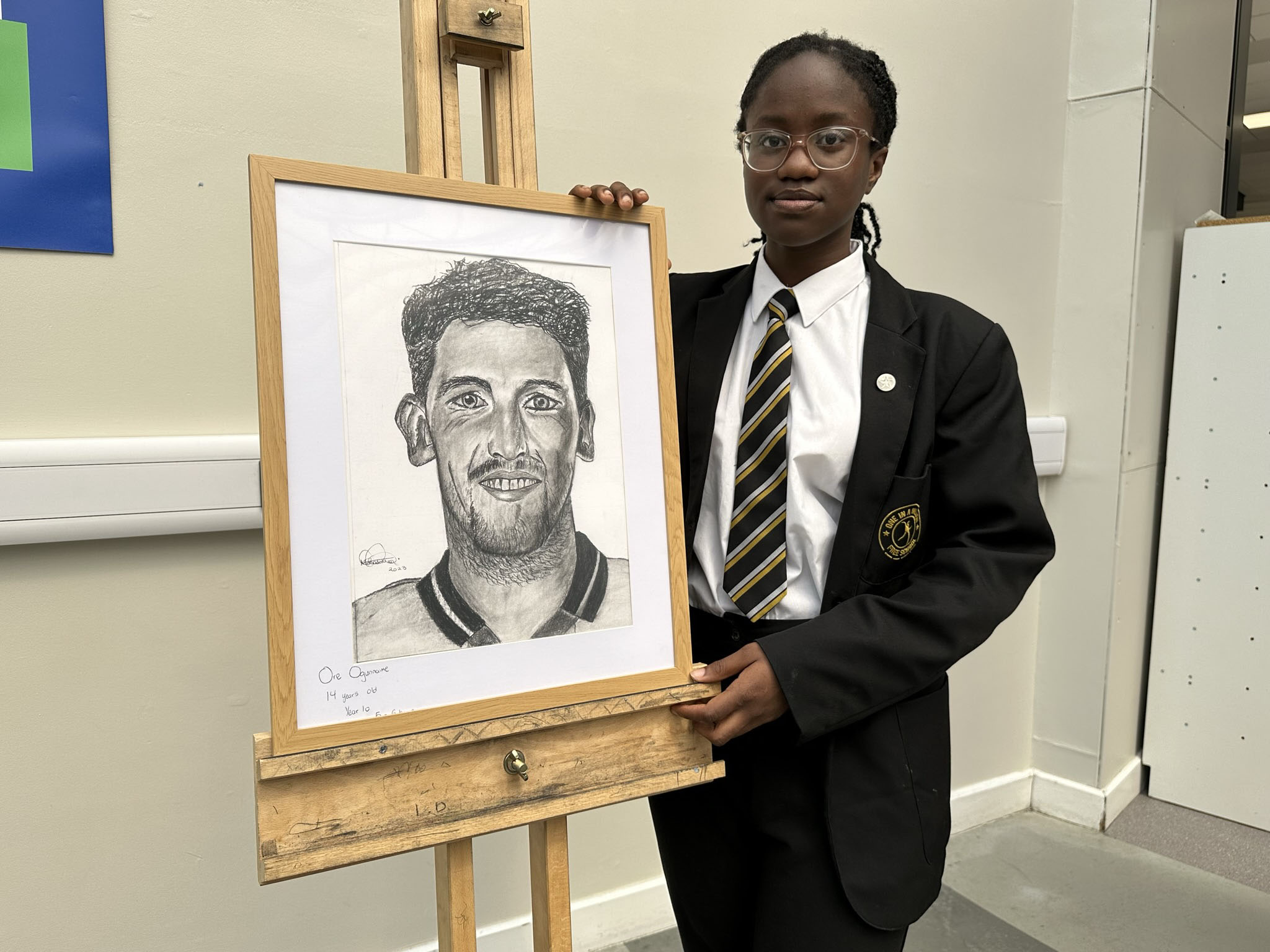 Oreoluwa, Year 10.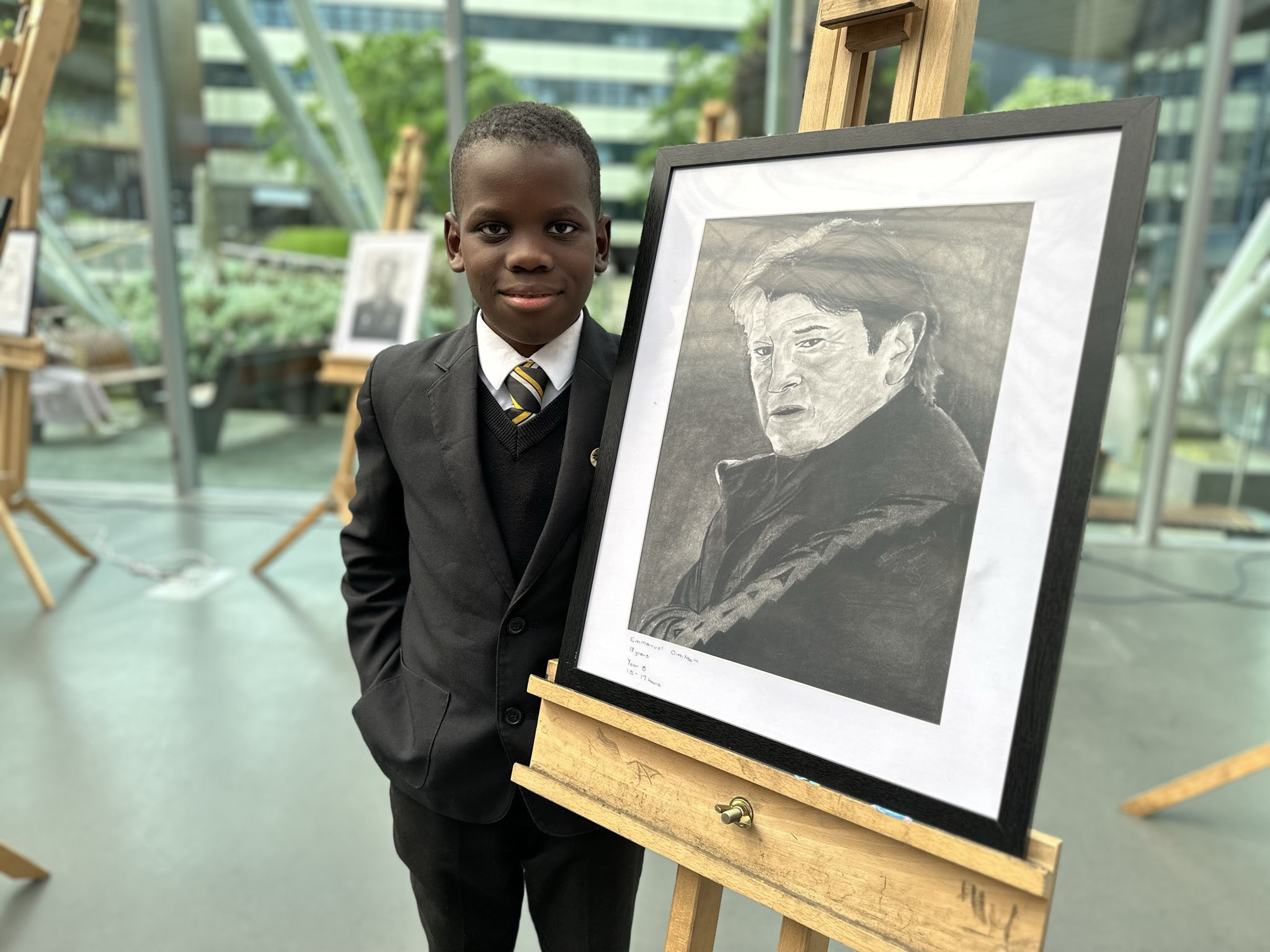 Emmanuel, Year 8.
Here's what our students had to say:
"I really enjoyed that everyone got to view my work because it was nice seeing people enjoying my hard work that was on display".
"I loved the art exhibition because I got to visit somewhere new, meet new people and talk about my drawing. I like drawing because I can express my feelings. I also got to talk on a podcast, which was fun.
"I enjoyed talking to people about the artwork and I got to learn new things about Art. I think drawing makes me feel at peace and means a lot to me".
"It was really great meeting new people and I really liked the advice they gave us on the steps to take to improve our drawing in the future. I enjoyed seeing the University. I find Art really fun and relaxing. It was a privilege to go to the exhibition and be involved in it".
"Art means a lot to me, it gives me comfort, so I really enjoyed the experience of producing my work for the art exhibition".