OIAMFS: Thank You Letter To Students From Mr Rees, Principal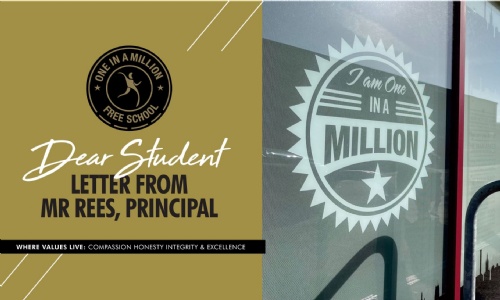 17th December 2021.
Dear One In A Million Student,
I just wanted to send you this email to express how proud I have been of you this term. Despite the various challenges the pandemic has thrown at us, you have demonstrated our core values impeccably, demonstrating honesty, integrity and compassion, whilst always striving for excellence in all that you do. Well done!
I can honestly say it is a pleasure to have you in our school and to have you as a representative of One In A Million.
Looking forward, there remains a high degree of uncertainty as to what will happen in relation to the pandemic. The emergence of the Omicron variant once again means that students may be forced into self-isolation and school will return to testing you as we return from the Christmas break. Whilst I am unable to tell you what will happen in relation to further lockdowns and the summer examinations, the one thing I do know is no matter the difficulties we are presented with, you will rise to that challenge with maturity, resilience and determination.
Congratulations and thank you for all your hard work and success this term! I look forward to welcoming you back in January, but until that time I hope you have a wonderful and well-deserved Christmas break.
Take care and stay safe.
Best wishes,
Stuart Rees, Principal
One In A Million Free School