'End of Term' Message From Mrs Hobbs, Acting-Principal From September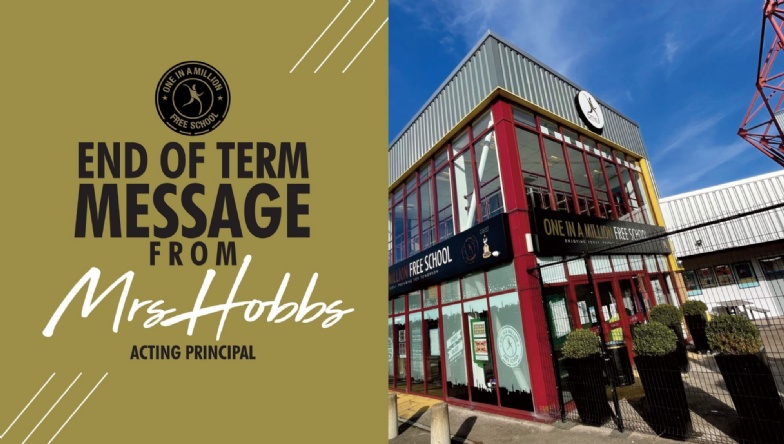 Dear Parent/Carer,
I would like to take this opportunity to say how much I am looking forward to working with you in September, as the Acting Principal of One In A Million Free School.
Having worked at the school in the role of Senior Vice Principal, I know first-hand what a wonderful school this is and it will be a privilege to lead a school which is a safe and enjoyable place to learn.
At One In A Million Free School we have high standards at the heart of all we do. We encourage our students to achieve the best they can across every area of school.
Our aim is for our students to be confident, caring, resilient young adults with a desire to learn and achieve the best they can, in all they do, in line with the school values.
As you look forward to the start of the new school year, please note the following:
School reopens on September 5th for students in Year 7 and Year 11 only.
School reopens on September 6th for ALL students.
Students should arrive at the main school entrance between 7:45 and 8:10, ready for registration at 8:15am.
The Senior Leadership Team will welcome students back and check all students are wearing the correct uniform and have all the necessary equipment to be successful and fulfil the school's expectations.
I would like to wish you all a restful and relaxing summer. If you have any questions over the Summer please do not hesitate to contact school on 01274 723439.
Yours faithfully
Jane Hobbs
Acting-Principal