Match day report: mud, sweat & tears as OIAMFS students hit '7' goals away from home!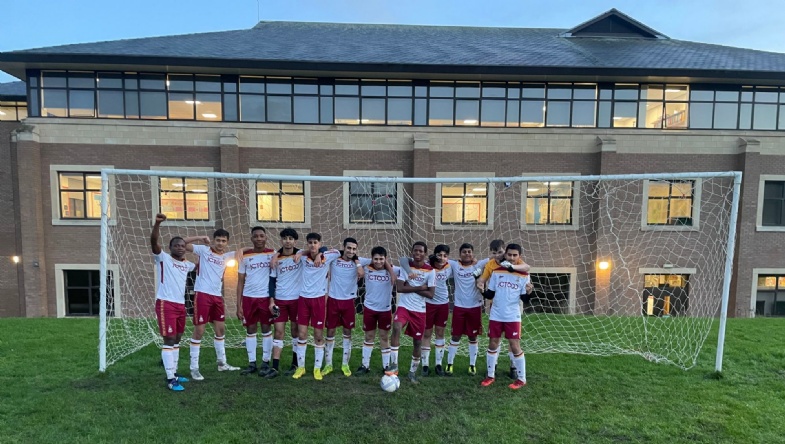 Match Report:
On Tuesday 15th November, on a very wet, windy evening, the One In A Million Free School (OIAMFS) football team won 1-7 away from home to a large Academy east of Bradford.
OIAMFS started on top and went close through Sayaan whose shot was just wide. OIAMFS continued to dominate but couldn't find the break through with the latest chance falling to Suleman who's deflected shot fired over. From the resulting corner their opponents counter-attacked and fired the ball into the top corner to take a surprise lead with 15 minutes gone.
Frustration started to kick in as Ibrahim and Adeel both hit the post with 5 minutes of the first half to go. Suleman then skimmed the crossbar with a free kick, followed up with a wonderful double save from their goalkeeper.
Finally, on the stroke of Half time Ibrahim danced his way past 5 defenders with a run that the great 'Lionel Messi' would, himself, have been proud of to draw us level! Half-time score: 1-1.
A 'Kaine and Stokes' combination team talk was given to motivate the boys during the adverse conditions!
OIAMFS started the second half superbly scoring 2 quick fire goals. One through Sayaan and the second through Suleman.
The confidence was free flowing. We quickly made it 4-1 with a penalty from Ibrahim.
It was soon 5 with a brilliant team goal that Sayaan finished after a superb through ball from Adeel. The game was then wrapped up with Adeel adding the sixth and Ibrahim completing his hatrick (3 goals) to make it 7-1.
It was a fantastic performance from our students. Whilst they respectfully celebrated in front of their opponents, the bus drive back to school was harmoniously noisy with chants of "we are top of the league" ringing out!
A special thank you to the host-school and their players (who never gave up), our 'kit-woman', Mrs Roden, and assistant manager Mr Stokes for their help and support.
From The Boot Room!
Josh Kaine
Teacher of PE & Head of Year 8