Cooking up a treat! Students lead on food collection in support of Bradford Foodbank.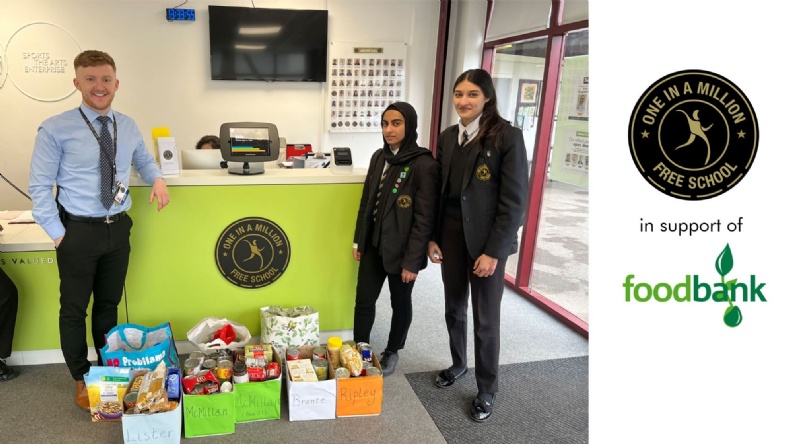 The One In A Million Free School Year 11 student leadership team were set a task at the start of the year to contribute to our local community of Manningham, and make a difference.
Maleehah A, Year 11 (Deputy Head Girl) led the project of "Favouring Foodbank" by making this a house competition to see who could raise the most donations.
"I, and the rest of the student leadership team, have promoted the project by holding assemblies and writing to parent/carers asking for their support with donations of essentials such as canned foods, toiletries, and other long-lasting items to support a local Foodbank in Bradford. A total of 247 items were donated. The overall house competition winner was McMillan with 68 items!"
Foodbank is a non-profit, charitable organisation that distributes food to those who have difficulty purchasing enough to avoid hunger, usually through intermediaries like food pantries and soup kitchens.
"As part of the school's practical application of its core values, which are compassion, honesty, integrity and excellence, our student's felt compelled during the current economic crisis to act and take responsibility do something to help the families within our local community. As we all know, there are many families struggling financially and, even more so, emotionally right now, as a result of the overbearing pressure of the current cost of living crisis. As you've heard, this idea came from our students themselves. It is important that we all grow in our consideration for those around us, even if we aren't directly impacted by it ourselves, we all know somebody who is". (Mr Brennan, Head of Year 11, Attendance Manager & Head of McMillan)
Bradford Foodbank said, "Thank you so much for your recent donation of food to help feed hungry families in Bradford!
We so appreciate all the effort and generosity to do this, and it will make a big difference. Your donation weighed in at 62.9KG, which will provide 86 meals!".
A big thank you to everyone who kindly made a donation to our Foodbank collection. We know it will be welcomed by those in need. We are grateful for your ongoing support".