OIAMFS: Meet And Greet With The New Principal, Mr Rees – Wednesday 27th February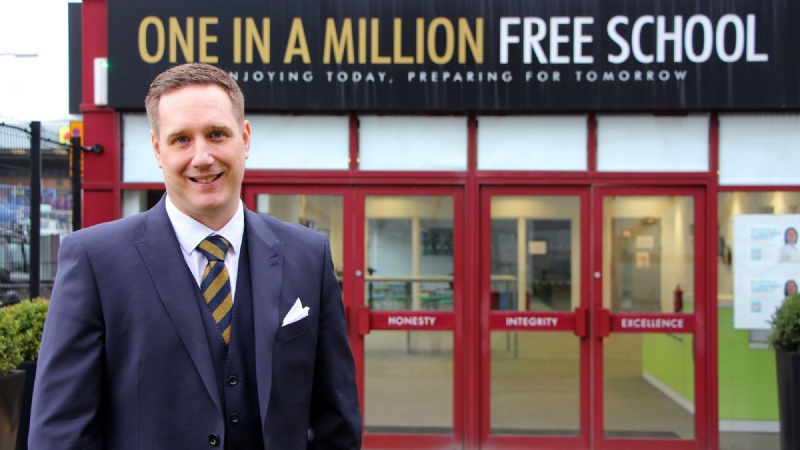 20th Feb 2019. Dear Parent/Carer
I am delighted and honoured to introduce myself as the new Principal of One In A Million Free School from 11th February 2019. Having worked within numerous schools in Bradford throughout my 18-year career in education, I understand that a happy and successful school community relies on everybody working together effectively, so I am looking forward to getting to know you as much as I am the students and staff of the school.
I would like to take this opportunity to invite you to an informal parent/carer consultation evening on Wednesday 27th February at 6.00 pm where you can come and meet with me in person and discuss your views on One In A Million Free School. It would be wonderful to see as many of you there as possible.
I feel extremely privileged to have been appointed as Principal and I have been fortunate to be able to spend a significant amount of time at the school this term in order to ensure a smooth transition. I was certain from my first impressions of the school that it was the right choice for me as Principal, and the welcome and support I have received from everyone has only strengthened this.
Perhaps the most impressive aspect of One In A Million Free School is the young people who attend it. I have been overwhelmingly impressed by how engaging and inquisitive they are, as well as the clear pride they demonstrate in being a member of the school community. Their teachers and support staff have been equally impressive, and in my short time here, they have continuously demonstrated, not only their talent and professionalism, but also their unwavering dedication and commitment to the students.
I know that One In A Million Free School has many strengths and enormous potential and, as such, I am incredibly excited about leading the school through its next stage of development. Therefore, I make no apology for the fact that I have very high expectations of the students in regards to all aspects of their education and behavior for learning. I expect all members of the school to uphold our core values of: Compassion, Honesty, Integrity and Excellence.
The relationships between students, parents/carers and teachers are fundamental to the success of the school. Working together will ensure that the students enjoy their time at OIAMFS, make outstanding progress and leave us as responsible, well qualified young people, ready to make a valuable contribution to society.
With this in mind, I would really value your continued support in ensuring that all students wear their uniform with pride, both in school and also on their journey to and from school. I have enclosed our uniform leaflet as a reminder. If you are unsure about any aspects of the school uniform please obtain a full guide from school reception or speak to a Head of Year.
Similarly, the importance of punctuality in making sure students are prepared for their learning cannot be underestimated and your support with enabling students to be on site by 8.00 am is much appreciated.
I very much look forward to working with you and your family and look forward to meeting as many of you as possible in the near future.
Stuart Rees
Principal